Rememble – Create Digital Memories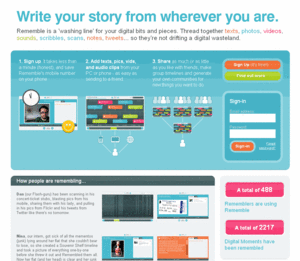 One of the benefits of my team's self-serve scheduling system is that we get to meet face to face with many developers. While I was in London this past July I met with Gavin O'Carroll of Rememble.com .
Supported in part by the UK's National Endowment for Science, Technology and the Arts (NESTA), Rememble is the concrete realization of Gavin's long-term dream of creating a system to capture and organize "Digital Moments."
A Digital Moment could be a piece of text, a picture, a sound clip, or even a video. Each moment is date stamped and can be tagged, shared, and commented on. You can upload media files directly from the site, you can send them to Remeble from your cell phone using MMS (except from within the US) or SMS, from your Twitter account, or even from your collection of Flickr photos. You can use Rememble to record and chronologically organize the moments in real time, or you can upload them after the fact and set the appropriate dates yourself.
The moments are then organized into a timeline, which can be private or shared. Groups can create and collectively add to shared timelines. This could be an excellent way to organize and share pictures after a reunion or other family event.
Rememble launches today and it is cool to know that it is powered by Amazon S3 and Amazon EC2.
Congratulations to Gavin for making his dream a reality!
— Jeff;