Restore The Gulf – US Government Site Hosted on Amazon EC2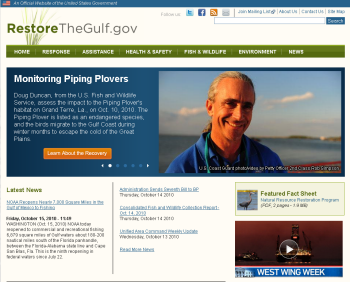 Ho hum – another web site (pictured at right) running on Amazon EC2. No big deal, right?
Actually, it is a pretty big deal.
Take look at the top left of the site. What does it say?
An Official Website of the United States Government
A number of US Government regulations, including an important one called FISMA (Federal Information Security Management Act), establish stringent information security requirements that had to be satisfied before this site was brought on line.
The prime contractor for this project was a company called Government Acquisitions. They worked with Acquia for hosting, and SiteWorx (an Acquia partner) to build the site.
The site itself was built with the very popular Drupal content management system (CMS). You can read more about Acquia Hosting and their use of AWS in this update from Drupal founder Dries Buytaert. Ths is a nice step forward for Drupal and an unmistakable sign that the US Government is paying attention to open source software like Drupal.
If your application requires FISMA certification and you'd like to learn more about running it on AWS, please use the AWS Sales and Business Development form to get in touch with us.
Speaking of the US Government, we'll be participating in the Adobe Government Assembly on November 3rd, 2010. At this event, government IT innovators will discuss ways to engage, innovate, and improve government efficiency. We hope to see you there!
— Jeff;
Modified 2/11/2021 – In an effort to ensure a great experience, expired links in this post have been updated or removed from the original post.