RSS Talker: RSS-Powered Price Watching for Amazon Products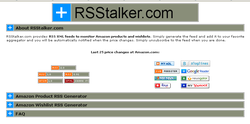 RSS is one of those fundamentally important technologies, something that we'll look back on in 10 or 15 years and wonder how we got along without it. Every day I see another interesting use for RSS, and I don't expect the rate of innovation to slow down any time soon.
Today's wonder is RSS Talker, a neat way to monitor product prices on Amazon.com. You can get a feed of the last 25 price changes across the entire site, or you can create a custom feed for any product that you would like to watch. You can also watch any Amazon wishlist in RSS form. This is very handy if you want to buy something as soon as the price comes down a little bit.
The generated RSS contains both the old and the new price, so that you can see the price change at a glance. Here's how this looks in BlogLines: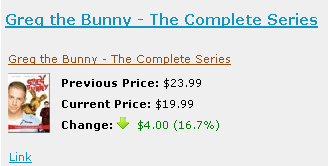 Be sure to check out RSS Talker today.
— Jeff;