SAP HANA – Production Ready on AWS With up to 244 GiB of RAM
A fully-supported version of the SAP HANA environment is now available on the AWS cloud. SAP has certified this version for production workloads in a single-node setup and you can count on it for all of your HANA-backed SAP Business Warehouse (BW) and OLAP scenarios.
I first wrote about the SAP HANA database and the SAP HANA One deployment option on AWS last year. Even though the original version of the product was limited to 60 gigabytes of data, many AWS customers were able to use it to learn and to gain experience with HANA.
You can now create SAP-certified, production-ready deployments of HANA. You can build and test your applications in the AWS cloud, and then deploy them there in minutes. You can scale up or down to meet changing needs, pay only for what you use, and you can access updated releases of HANA as soon as they are released. The SAP HANA Blog has some additional information on SAP HANA's Certification for use on AWS.
If you already own licenses for SAP HANA, you can now use them in the AWS Cloud. The SAP HANA on AWS Note contains additional information on the supported platforms (access to this document requires you to supply your SAP user name and password).
You can launch these instances today from the SAP HANA Marketplace. All you need is an AWS account, your SAP customer ID, and your HANA license key. Our new SAP HANA on AWS Implementation and Operations Guide should be helpful as well: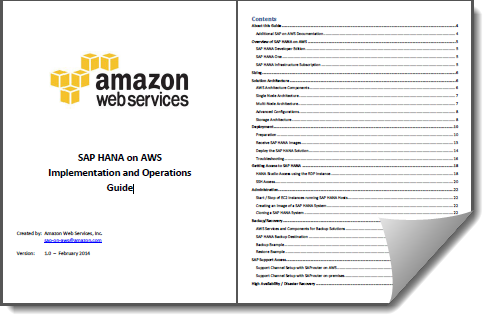 Production-Ready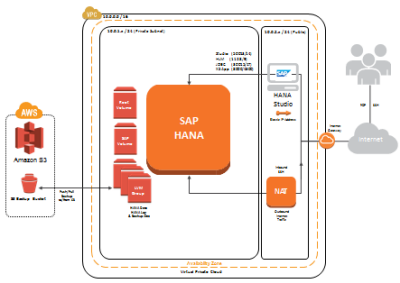 You can now create production SAP HANA configurations to support your SAP Business Warehouse (BW) or standalone OLAP scenarios on a cr1.8xlarge instance with 244GiB of memory and 32 vCPU's.
You can launch your HANA environment in an Amazon Virtual Private Cloud (VPC) to add a powerful, cloud-based data storage and analytical facility to your existing on-premises data center, integrate it with your existing application on the AWS cloud, or leverage HANA as a standalone environment.
Our colleagues at SAP have been experimenting with even larger configurations of HANA in order to demonstrate the massive scale-out that is possible on AWS. At last report they were running a 1,776 core environment on 111 cc2 nodes. To learn more about this experiment, watch this video (skip ahead to 37 minutes and 50 seconds if you are impatient).
Take a look at SAP's architecture diagrams to see some of the possible configurations. If you have any questions, you can email our SAP HANA team at saphana@amazon.com .
— Jeff;