See you in the UK?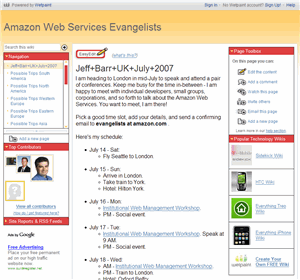 I am just about set for my next UK trip, but there are still a few open issues:
I have an appointment labeled "Lunch at Wagamana" on the 19th, but no other details. Please add details to the Wiki page or send a note to evangelists at amazon.com .
I have some open time in Oxford on the 25th and would be happy to meet with any interested developers. I am also planning to attend the Oxford Geek Night.
— Jeff;
PS – I am pretty much full-up for this trip, but I have another European trip coming up in late September. Please feel free to add yourself to the Wiki and to send a confirming email to evangelists @ amazon.com .