SOASTA CloudTest Pro
The new SOASTA CloudTest Pro product gives organizations the ability to launch test clouds of any size on public, private, or shared cloud infrastructure including Amazon EC2 instances. Developers and performance engineers building, running, and scaling enterprise-class applications can now provision testing clouds on demand.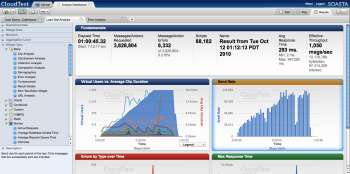 Based on SOASTA's existing CloudTest architecture, CloudTest Pro is available for unlimited use on an annual subscription basis. The platform can be run within your existing AWS account and takes care of launching, managing, and terminating the EC2 instances used to run the test. The subscription includes the ability to run an unlimited number of tests of any desired size and complexity. Each test can be driven from a combination of internal and external load sources, including EC2 instances running in more than one AWS Region. All of the test results are aggregated and made available for viewing in the CloudTest Analytics Dashboard, even if multiple, disparate load sources were used.
This is a genuine platform and it was designed to be easily integrated into your existing build systems and processes. For example, if you practice continuous integration, you can arrange to run a performance test after each clean build.
Read more about CloudTest Pro or sign up for the webinar.
— Jeff;
Modified 2/11/2021 – In an effort to ensure a great experience, expired links in this post have been updated or removed from the original post.