SpringSource Cloud Foundry – Enterprise Java in the Cloud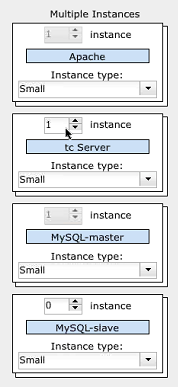 The SpringSource Cloud Foundry allows developers to build, run, and manage Java, Spring, and Grails applications on Amazon EC2.
After creating a free account at www.cloudfoundry.com, you can design and configure complex systems, intelligently provision complete Java stacks, while making use of SLA-driven resource allocation and benefiting from automated infrastructure repair.
You can upload one or more WAR (Java web application) files to Cloud Foundry for each of your applications. Then you can configure your AWS, JVM, and database options and launch your application on one or more EC2 instances. Cloud Foundry lets you configure single and multiple instance application and database servers, including MySQL masters and slaves in any EC2 region, on any EC2 instance type.
Once the application has been deployed you have a number of options for monitoring and management, including automatic repair of terminated or unresponsive instances, automatic scaling (with configurable limits), and more.
Here are some screen shots that I took during a pre-launch briefing earlier this week: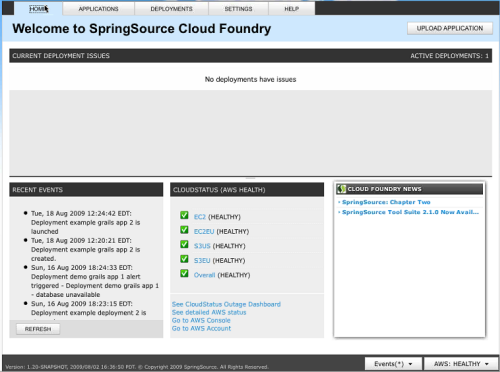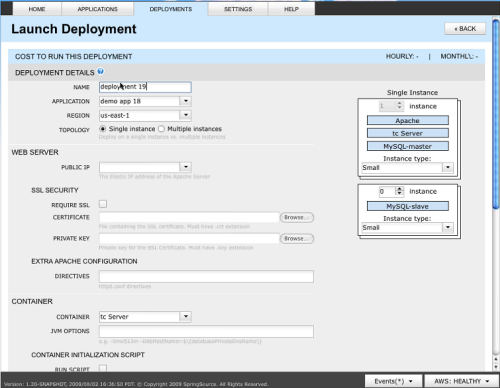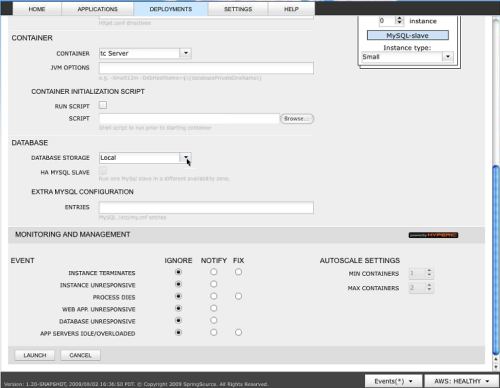 This is a pretty cool product. It will definitely help developers to get their Enterprise Java applications up and running on AWS more quickly and more easily!
— Jeff;