Now Available – SUSE SLES 12 AMIs for Amazon EC2
Our friends at SUSE recently announced the release of SUSE Linux Enterprise Server 12. This release introduces a new module-based system that allows customers to stay current with the desired parts of the software stack while sticking with a stable set of core packages.
I am happy to announce that this new release is now available in Amazon Machine Image (AMI) form for use on Amazon Elastic Compute Cloud (Amazon EC2). The AMIs can receive packages from the following SUSE Linux Enterprise Server 12 modules:
Public Cloud – This module provides a collection of tools that enables you to create and manage cloud images from the command line on SUSE Linux Enterprise Server
Web and Scripting – This module includes a suite of scripting languages, frameworks and related tools, to help developers and systems administrators create of stable, modern web applications using dynamic languages, such as PHP, Ruby on Rails, and Python.
Advanced Systems Management – This module contains three components to support system administrators to automate routine tasks in the data center and cloud: CFEngine, Puppet, and the new Machinery.
Legacy – This module helps you to migrate applications from SUSE Linux Enterprise 10 and 11 and other systems to SUSE Linux Enterprise 12 by providing packages which have been discontinued in the latest release.
SUSE has also included a technical Preview of Docker in SUSE Linux Enterprise Server 12. Linux Containers and Docker are great ways to build, deploy and manage applications and can be used with tools like Open Build Service and the KIWI image system for easy and powerful image building.
The new AMIs are available now in all AWS Regions and you can start using them today! You can launch them from the Quick Start tab in the AWS Management Console: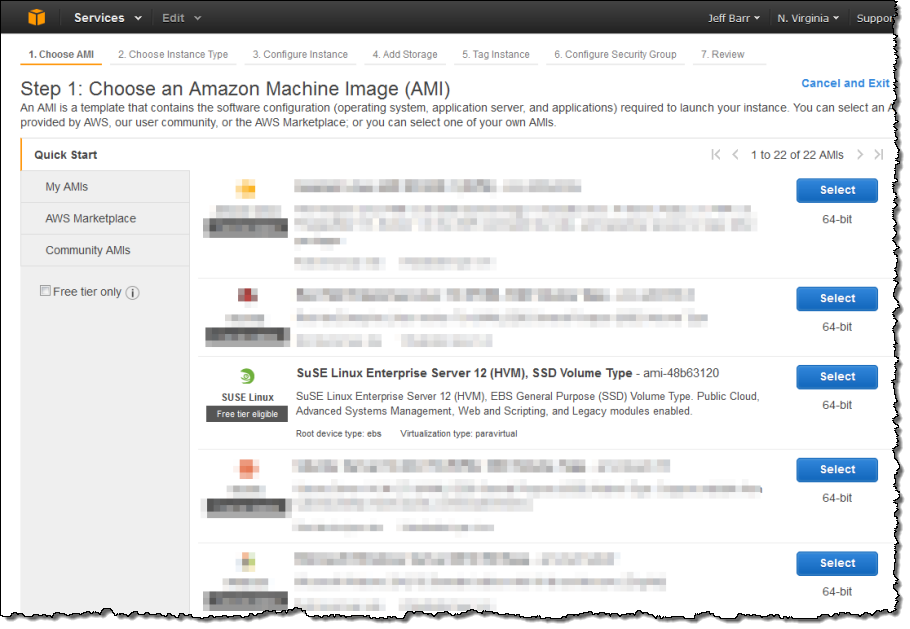 Here are the AMI IDs (these are all x86_64):
| | | |
| --- | --- | --- |
| Region | HVM | PV |
| US East (N. Virginia) | ami-48b63120 | ami-aeb532c6 |
| Asia Pacific (Tokyo) | ami-d54a79d4 | ami-df4b78de |
| South America (São Paulo) | ami-c102b6dc | ami-c102b6dc |
| Asia Pacific (Singapore) | ami-84b392d6 | ami-dcb3928e |
| Asia Pacific (Sydney) | ami-590e6263 | ami-b90e6283 |
| US West (Oregon) | ami-c5440af5 | ami-d7450be7 |
| US West (N. California) | ami-c5440af5 | ami-cd5b4f88 |
| Europe (Frankfurt) | ami-cd5b4f88 | ami-aa2610b7 |
| Europe (Ireland) | ami-1804aa6f | ami-e801af9f |
To learn more about SUSE Linux Enterprise Server 12, take a look at the Release Notes.
— Jeff;