The New Cost Explorer for AWS
My colleague Parmita Mehta sent a blog post to introduce the new Cost Explorer. This looks really cool and I think you will like it!
— Jeff;
---
I would like to introduce the Cost Explorer, a new toolset for managing your AWS spending. Cost Explorer is integrated with the new AWS Billing Console launched in November, and features reporting, analytics, and visualization tools enabling you to track and manage your AWS costs.
We focused on several things with this initial release. First and foremost, we wanted to make this drop-dead simple to use: you sign up with a single click, and Cost Explorer shows you your current months spend and automatically pre-populates your last 4 months of AWS spend so you can visualize your AWS costs, and start analyzing trends and spending patterns. It runs in your browser, so theres no software installation or maintenance to deal with.
Cost Explorer comes with several pre-configured views, and well be adding more over time. Monthly Spend by Service (see below for a walk-through) allows you to see where your money is going, and identify opportunities to save by changing usage patterns or taking advantage of service-specific pricing options (e.g. EC2 Reserved or Spot Instances). Monthly Spend by Linked Account lets you track spending by your Linked Accounts. (The visibility is one-way: master paying accounts can see spending across all linked accounts, but linked accounts can only see their own spending.) The Daily Spend report lets you check on your spending as it happens, so you can track key areas or projects without waiting until the end of the month.
Custom Filters
If the pre-configured views arent what you were looking for, you can drill into areas of particular interest with Cost Explorer. Do you want to see how spending changed since you launched your most recent product on January 21st? No problem: Cost Explorer lets you define custom filters based on time period, accounts, services, and tags and then use them to analyze your spend.
With tag-based filters, Cost Explorer gives you a powerful way of analyzing your spending along whatever custom dimensions you use to organize your business. For example, you can look at the total cost of an application, cost center, or functional group, regardless of the resource (compute, storage, and so forth) or Region. With AWS and Cost Explorer, you dont have to worry about collecting data from isolated resource pools, reconciling vendor-specific reporting formats, and estimating how to allocate shared resources.
AWS already gives you exceptional granularity in terms of providing usage data, and now Cost Explorer gives you the tools to easily manage and visualize this data, and ultimately control your spend.
A Deeper Look
Lets take a deeper look at Cost Explorer. It can be accessed from the Billing and Cost Management section of the AWS Management Console: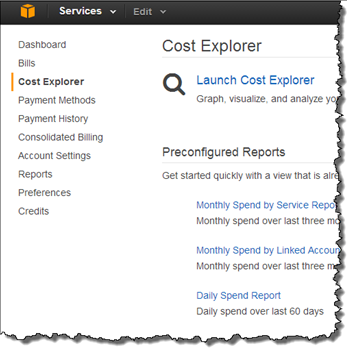 You can access any of the pre-configured views by clicking on titles of the view. The Monthly Spend by Service report is a quick snapshot of your past three months of monthly AWS spending. The spending information for the current month is an estimated amount, updated multiple times a day. The data represented in the graph is also available as a table for you to download as a CSV file. Here's the report:

You can also create custom views in Cost Explorer. You can customize the time range and flip between monthly and daily data. You can also filter and drill down into your data through a combination of linked accounts, services and tags and then group this data by services or linked accounts.
Suppose that you want to see how much you have spent on EC2 and S3 over the past three months on the linked accounts Dev, Labs and Department A. Use the Filter dropdown to select the linked accounts, apply a second filter to see costs for EC2, and S3, and use the Group by option to break out your spending by Linked Account or AWS Service, here is what it looks like grouped by Linked Accounts:

You can download your filtered data as a CSV file to perform further analysis or incorporate into a management or accounting report. If you need to return the same customized view and see an updated report every week, you can bookmark the view in your browser.
Finally you can control access to these reports through IAM policies. By default, root accounts will have access to Cost Explorer. For IAM users you will need to grant access to the AWS website as well as provide explicit permissions to view billing data.
You can find more detailed information about granting IAM users access to the Cost Explorer in the Cost Explorer Documentation.
— Parmita Mehta, Principal Product Manager