Top City Books – Three Way Mashup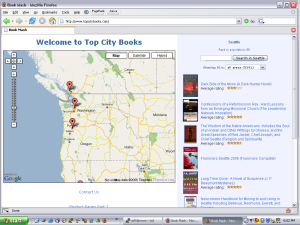 I am attending Mashup University today, but it is only a coincidence that today's cool site is itself a mashup!
Top City Books combines ECS data, Google Maps, and Yahoo Geocoding to display the top books sold in cities around the world. Geocoding refers to the process of turning a full or partial street address into a latitude and longitude.
As you can see from the image at right, I selected Seattle on the map and zoomed in a bit. According to the site, the top selling book in Seattle is Sherrilynn Kenyon's Dark Side of the Moon. By some cosmic coincidence, the TV here in the break room at Mashup University is showing Roger Waters and Pink Floyd playing some classic tracks from the album of the same name.
The site also allows the search to be refined by category, so that I could choose to see the top selling literature, arts, history, travel, cooking, entertainment, or business books sold in a particular city.
Update: There seems to be some disagreement about what books are actually shown — most popular in a city or most popular about a city. I have asked the author for more information and will update this post as soon as I know more.
— Jeff;
Modified 3/12/2021 – In an effort to ensure a great experience, expired links in this post have been updated or removed from the original post.