Webinar: Monetize Your Innovation with Amazon FPS and Get Started Free
Are you thinking about accepting payments on your website? Or perhaps you already accept payments, but you're tired of the fees and an inflexible interface. The Amazon Flexible Payment Service team is presenting two free webinars that will be very useful in either case.
The first session is on Wednesday March 4, 2009, from 11:00 AM – 12:00 PM PST, and the second is on Tuesday March 10, 2009, from 11:00 AM – 12:00 PM PST. These webinars will introduce you to Amazon Flexible Payments Service (Amazon FPS).
With Amazon FPS you can accept payments on your website for selling goods or services, raising donations, performing recurring payments, and sending payments. These webinars are an opportunity to learn more about Amazon FPS and how you can use the flexibility it provides to monetize your innovation. I know that quite a few websites have encountered PCI Compliance Audits, which in my opinion are a real challenge to comply with. There are many reasons to use this service (I mentioned a couple at the top of this post); however PCI compliance alone is an excellent motivation.
Earlier this month Amazon FPS entered general availability and also introduced Amazon FPS Quick Starts, a simplified set of APIs that ease integration while maintaining the flexibility of Amazon FPS.
Best of all there is a limited time offer that lets you get started free! Build an application using Amazon FPS and get FREE payment processing for the first 90 days until total transaction volume reaches $500,000.
Sign up before March 15th, 2009 and Get Started FREE!
If you have an online business or are a developer working with an online business this webinar is for you.
Note: Amazon FPS allows U.S. as well as international customers to use major credit cards to make payments on Amazon FPS-powered websites. However, bank account and Amazon Payments account balance transfers are enabled only for US based customers. All transactions are in U.S. dollars.
— Mike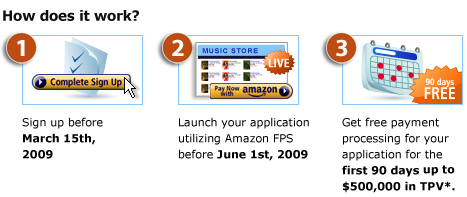 Modified 3/16/2021 – In an effort to ensure a great experience, expired links in this post have been updated or removed from the original post.