IGAWorks Empowers Digital Marketing through Data and Technology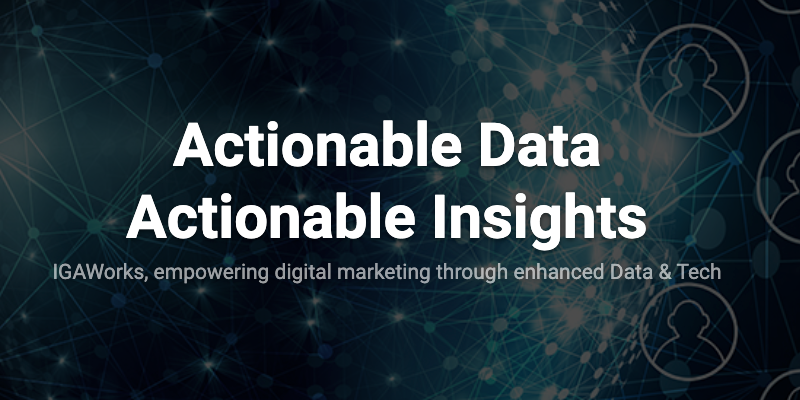 These days, they say that data is the new oil—a resource that is reshaping entire industries. That said, at the center of the comparison is the stance that as the world becomes more connected, data is becoming one of the most valuable assets on earth, enriching those who have it and fueling innovation.
Well, if data is the new oil, then Seoul-based IGAWorks is well positioned to capitalize on the trend.
Founded in 2006, the Seoul-based company focuses on building proprietary technology within the mobile big data field. A veteran in the space, IGAWorks has launched a series of popular data-driven marketing platforms and services that have seen solid pick-up within the digital marketing industry of Korea. It has also raised upwards of $38 million in venture funding along the way (this includes an $18.5 million Series D in February of 2019).
While IGAWorks' offering is complex, covering the entire mobile-marketing data journey, we'll work to highlight a handful of the main products.
The beginning can be traced to adbrix, its SaaS platform that enables developers to track user behavior within their applications, as well as attribute marketing efforts to inbound activity. Think of how websites "cookie" visitors to identify and track them throughout the web. Works great for a browser experience, but sadly wasn't built for mobile applications. That's where adbrix comes in, offering trackability and more via an easy-to-use SDK for mobile-application developers.
Taking a step back, it's important to establish an overall view of the global marketing technology industry, which has no shortage of players. Just look at the growth in the annual MarTech market map, which included 7,040 companies this year, as opposed to the ~150 seen in 2011. In the case of Korea, global companies have aggressively fought for market share within the hyperconnected country, making it difficult to differentiate. This is where IGAWorks excels, however, as they've been able to secure a large proportion of companies as customers within its home country, per Kwang Ray Son, Chief Strategy Officer.
"We've worked hard to take the lead in the domestic B2B mobile data industry, where roughly 75% of the top 300 companies use adbrix to analyze and understand their data. Our customers leverage a data-oriented environment fueled by adbrix to analyze their business growth in real time and take immediate action."
Once the data has been collected and analyzed with adbrix, the next step is to set up a personalized KPI matrix with IGAWorks' 3rd party data management platform (DMP) solution, Mobile Index. 1st party data is undoubtedly valuable, but it does have its limitations, namely that it only gives a view into what's happening within a users' specific product. How does one get a more 'holistic view' into their users' behavior? By coupling 1st party data with IGAWorks' proprietary DMP data, with the end result for companies being the ability to target a very precise type of audience, newly defined through a comprehensive and data-centric view of customers.
With this data, IGAWorks takes things a step further, offering its users the ability to easily launch data-driven marketing campaigns for the newly defined target customers derived from 1st party and 3rd party data. Having defined targets is great, but not sufficient unless you can properly reach them, after all.
This final step of the journey is managed by TRADINGWORKS, an AI-based advertising trading desk for reaching customers wherever they are. As Ray Son puts it, "If we have a data-driven strategy, it is important to use that data directly in our marketing activities. With TRADINGWORKS, users can manage the entire marketing process in one place, including designing or uploading content directly into the most used digital advertising platforms—such as Google, Youtube, Facebook and Instagram—and measuring the performance for each. We also offer data-driven marketing consulting services for those who may not want to fully manage their own campaigns."
To power this full-stack, data-driven service, IGAWorks trusts AWS. Previously an Azure customer, the team at the now 14-year-old startup migrated over in 2012. Since then, they've seen a number of benefits, most of which boil down to affording them more time to focus on their core product, per Ray Son.
"For us, AWS took the concept of hardware away. If we need a new database, it's just a few clicks away in AWS console. And even those few clicks are not necessary as we can automate provisioning. The combination of services like AWS Elastic Beanstalk, Amazon RDS, ElastiCache, and Kinesis allow us to focus on what's important, our product and customers."
IGAWorks' fully-managed approach to the mobile-marketing-data journey, turning today's oil into data-centric products, has proved quite successful. Often times startups are judged by the amount of venture funding raised or who has invested, which obfuscates the real end goal of building a company that can exit. Well, that goal is well insight for this company, with a target public offering date slated for 2021 and an enterprise value that will likely crest the fabled $1 billion mark.