Amazon Glacier Now in the Asia Pacific (Sydney) Region
Amazon Glacier is a storage service designed for backup and archiving. Glacier provides secure, durable storage at an extremely low cost. Introduced a little over a year ago, Glacier has been growing quickly.
Our customers are using Glacier for digital preservation, online backup of historical assets, archiving of cold media data, storage of operational data for online services, redundant storage for disaster recovery, and more.
Glacier Down Under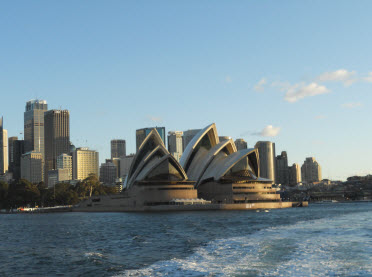 Today we are making Glacier available in the Asia Pacific (Sydney) Region.
Glacier is now available in six AWS Regions:
US East (Northern Virginia)
US West (Oregon)
US West (Northern California)
EU (Ireland)
Asia Pacific (Tokyo)
Asia Pacific (Sydney)
Pricing for Glacier storage starts at $0.012 per Gigabyte per month in the new Region.
You can use Glacier in two different ways. You can upload archives directly, or you can use Amazon S3's lifecycle rules to migrate objects in an S3 bucket to the Glacier storage class using a relative or absolute time specifier: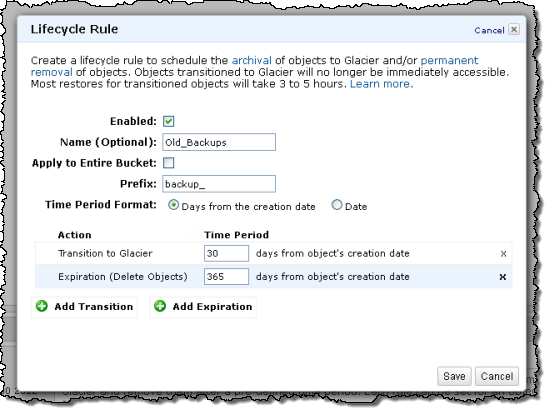 Customers Using Glacier
As I mentioned earlier, usage of Glacier has been growing quickly. Here are a few stories to give you a better idea of what our customers are doing with it:
DuraCloud is a digital preservation service launched in conjunction with the Library of Congress. It supports Glacier as one of four storage providers, including Amazon S3.
Illumina's BaseSpace is a cloud-based sequencing environment. It allows researchers to upload massive DNA data sets and sequences to the cloud for analysis, with long-term data storage in Glacier.
Backupify provides archiving, search, and restore functions for cloud-based data stored in other online applications and services. All customer data is stored in Glacier.
Scribd backs up all customer and internal data, including database snapshots and log files, to Glacier.
— Jeff;