Amazon EC2 and SOA Suites : Great Article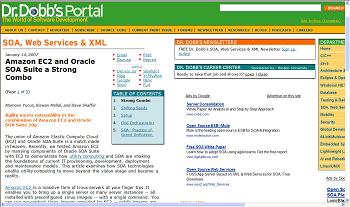 I love it, when people innovate!
Mamoon Yunus and team wrote an excellent article on Dr. Dobbs Journal that adds a new dimension to Amazon EC2 use cases. In the article, they are combining the power of Amazon EC2 with existing SOA Suites and BPEL Engines
They discuss the key features of some great products/technologies that are currently out there:
Extending use cases of orchestration languages like BPEL beyond their typical application development role to also manage infrastructure provisioning
Utilizing Events and Exceptions management feature of Oracle BPEL Process Manager (Oracle SOA Suite)
Ability to spawn up a new server instance or clone existing server instance by a mere web-service call using Amazon EC2
The Shifting Sands section in this article is definitely worth a read – it discusses some real nice "trendy" ideas and predictions of the new emerging world. I would love to know your comments about these predictions.
— Jinesh