AWS Hot Startups – October 2016 – Optimizely, Touch Surgery, WittyFeed
September 8, 2021: Amazon Elasticsearch Service has been renamed to Amazon OpenSearch Service. See details.
---
I'm pleased to share yet another month of hot startups, courtesy of Tina Barr!
— Jeff;
---
Check out this month's AWS-powered startups:
Optimizely – Providing web and mobile A/B testing for the world's leading brands.
Touch Surgery – Building technologies for the global surgical community.
WittyFeed – Creating viral content.
Optimizely (San Francisco)


Optimizely is one of the world's leading experience optimization platforms, providing website and mobile A/B testing and personalization for leading brands. The platform's easy-to-use products coupled with the high speed of deployment allows organizations to run experiments and make data-driven decisions. Thousands of customers worldwide are using Optimizely to deliver better experiences to their audiences across a variety of channels. To date, those customers have created and delivered over 275 billion optimized visitor experiences.
In today's digital world, it is essential for companies to provide personalized experiences for their consumers. In Optimizely's words, "Being personal is no longer optional." Their web personalization products allow companies to deliver targeted content to their customers in real time by using browsing behavior, demographic information, contextual clues, and 1st- and 3rd-party data. This in turn drives revenue and keeps customers coming back. Companies don't have to rely on a team of analysts or engineers to know the impact of their campaigns either – Optimizely has developed an industry-leading Stats Engine to support experimentation and decision-making on their terms.
Optimizely relies heavily on AWS for hosting core parts of its data infrastructure that powers experimentation across different channels, targeting and personalization. They use services like Amazon S3, Amazon EC2, Amazon EMR, Amazon RDS, Amazon Redshift, Amazon DynamoDB, and Amazon ElastiCache to rapidly and reliably scale out infrastructure for supporting business growth. Optimizely also uses AWS security services such as Amazon Identity and Access Management (IAM) roles, Amazon Virtual Private Cloud (VPC), and AWS CloudTrail for auditing in order to enhance customer trust in the product.
Check out the Optimizely blog to keep up with the latest news!
Touch Surgery (London)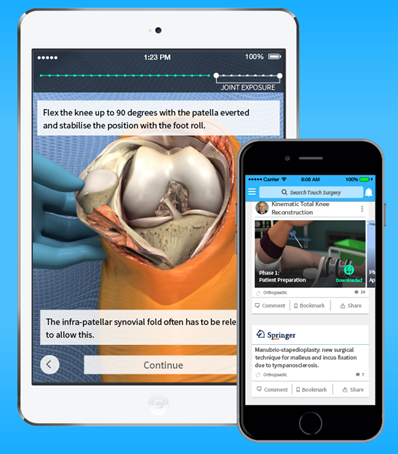 Founded by 4 surgeons, Touch Surgery is a technology startup with a mission to scale global surgery by using the latest technologies to train surgeons and standardize surgical knowledge. The company is transforming professional healthcare training through the delivery of a unique platform that links mobile apps with a powerful data back-end. The team behind Touch Surgery has spent years working with leading surgical minds from around the world to map and share the language of surgery.
Touch Surgery uses cognitive mapping techniques coupled with cutting edge AI and 3D rendering technology to codify surgical procedures. They have partnered with leaders in Virtual Reality and Augmented Reality to work toward a vision of advancing surgical care in the operating room (OR). Future surgeons can practice anytime, anywhere by downloading the app (iOS & Android). The app allows users to learn and practice over 50 surgical procedures, evaluate and measure progress, and connect with physicians across the world. Touch Surgery also offers a variety of simulations in specialties such as neurosurgery, orthopedics, plastics, and more.
Touch Surgery's back-end is fully hosted on AWS. They make use of many Amazon EC2 instances, as well as Amazon S3 and Amazon Elasticsearch Service. AWS has allowed them to scale with the use of Amazon RDS, and they now have over 1 million users and are recording vast amounts of usage data to power their data analytics product. Touch Surgery is also able to deploy different environments with relative ease to help with testing and increase the speed of delivery.
Touch Surgery is always looking for more talent. For more info check out https://www.touchsurgery.com/jobs/.
WittyFeed (India)


WittyFeed is a platform connecting social media influencers with creative writers who have a passion for sharing entertaining and attention-grabbing stories. Launched in 2014 by cofounders Vinay Singhal (CEO), Shahshak Vaishnav (CTO), and Parveen Singhal (COO), WittyFeed has become India's largest viral content company generating over 60 stories per day and attracting 75 million unique visitors every month. They have over 100 writers that are constantly producing content, and an in-house team of editors ensures that the content goes viral and reaches the right audience. The WittyFeed team is passionate about helping publishers grow their pages and is currently creating tools that will tell them not only when to post, but the type of content that will reach a broad audience.
WittyFeed is easy to use and allows readers to personalize their feeds to get the most relevant content. Their focus is on photo-stories, 'listicles', and 'charticles' in categories such as Technology, History, Sports, and of course, Hilarious. WittyFeed also makes it easy for users to engage and interact with each other with their new live-commenting feature, which allows readers to leave comments without having to sign into a personal account.
Being a content company means that WittyFeed has to deal with a heavy load, user base, and data. With AWS they are able to have a highly scalable infrastructure that can handle sudden surges and adapts to needs in a short period of time. WittyFeed uses a broad range of services including Amazon Kinesis Firehouse, Amazon Redshift, and Amazon RDS. These services allow WittyFeed to handle over 100 million visitors and serve over 500 million page views with almost zero downtime and have become the central pillars of their infrastructure.
Start exploring WittyFeed today!