New AWS Quick Start – Cloudera Enterprise Data Hub
The new Quick Start Reference Deployment Guide for Cloudera Enterprise Data Hub does exactly what the title suggests! The comprehensive (20 page) guide includes the architectural considerations and configuration steps that will help you to launch the new Cloudera Director and an associated Cloudera Enterprise Data Hub (EDH) in a matter of minutes. As the folks at Cloudera said in their blog post, "Cloudera Director delivers an enterprise-class, elastic, self-service experience for Hadoop in cloud environments."
The reference deployment takes the form of a twelve-node cluster that will cost between $12 and $82 per hour in the US East (N. Virginia) Region, depending on the instance type that you choose to deploy.
The cluster runs within a Amazon VPC that includes public and private subnets, a NAT instance, security groups, a placement group for low-latency networking within the cluster, and an IAM role. The EDH cluster is fully customizable and includes worker nodes, edge nodes, and management nodes, each running on the EC2 instance type that you designate: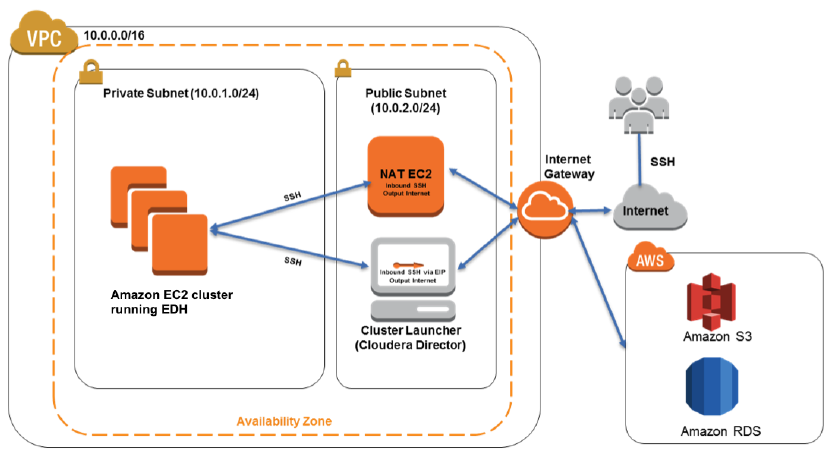 The entire cluster is launched and configured by way of a parameterized AWS CloudFormation template that is fully described in the guide.
— Jeff;
Modified 10/29/2020 – In an effort to ensure a great experience, expired links in this post have been updated or removed from the original post.