AWS Summer Startups: Mediology

Over the summer months, we'd like to share a few stories from startups around the world: what are they working on and how they are using the cloud to get things done. Today, we're profiling Mediology Software from India!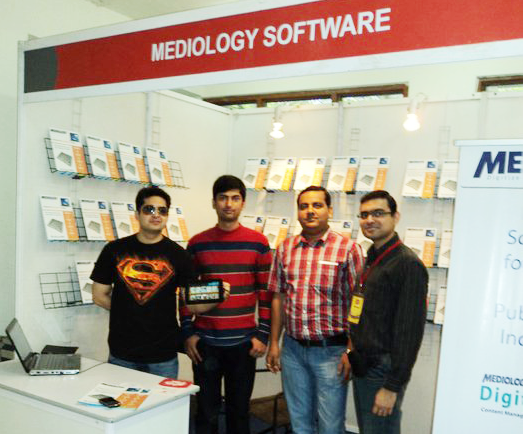 The Story
2010 was the first year when we allowed countries from Asia Pacific to enter the start-up challenge. We were very impressed with the quality of entries and, in specific, one of them, Mediology Software, caught our eye and made it to the final round in Palo Alto.
Mediology Software is currently a one-year old start-up based out of India and employing 35 people. Mediology DigitalEdition, their main product, is a SaaS platform that enables print publishers to digitize their content, add interactivity, create workflows, and then distribute the content via web, mobile and e-reading platforms. The system achieves its massive scale for content digitization and delivery using event-centric cloud computing services from AWS.
As an example of the type of work Mediology does, I encourage you to take a look at the case study we recently published, describing how AWS and Mediology teamed up to help CozyCot.com, a website geared to East Asian and South Asian women on a wide range of topics including family, health, beauty, etc. In addition to offering CozyCot a better website hosting and scaling solution through the AWS infrastructure, Mediology has helped them distribute and promote their content through a wide variety of platforms, increasing CozyCots bottom line.
From the Founders
I caught up with Manish Dhingra and Gaurav Bhatnagar, Co-Founders at Mediology Software, a few days ago, as I was checking on how theyre doing almost a year after being named finalists in the AWS Start-up Challenge.
Since January 2011, we have had some high-profile launches on our DigitalEdition platform. Naturally, the usage of AWS, not just in terms of the instance volume, but across the set of AWS services has enabled us to create a very scalable, yet cost-effective architecture. We're 100% build and reliant on AWS. For instance, we use EC2, Cloudfront, S3, SES, SimpleDB, RDS, SNS, CloudWatch and IAM, all orchestrated together to enable our SaaS platform, Mediology DigitalEdition.

How Has the AWS Start-up Challenge Helped Mediology?
I asked Manish to tell me how the AWS Start-up Challenge has helped their business. Here's what he told me:
Consumer and Customer confidence in our solution has definitely taken a giant leap, since we returned from Palo Alto in December 2010. Although the same has also led to higher expectations, our grasp of AWS has enabled us to meet the customer expectations quite easily.

Sharing the Wisdom with other Asia-Pacific Start-ups:
AWS gives you the ability to enable application or solution heavy-lifting. We believe Asia is a growth market and many new age concepts around value-based computing, value-added services (specifically around mobile, which works on the core tenets of SaaS and SOA) will find great traction here.
The key is to not get fazed during the stealth and growth stages of your start-up. Think of AWS as something that gives the wings to your creativity and enables very effective working-capital utilization. In fact, if the pricing benefits are passed on to the consumers, then there is a great chance of leveling the playing field and being the best at what you do, without compromising on the bottom line.
The AWS Startup Challenge
We're getting ready to launch this year's edition of our own annual contest, the AWS Startup Challenge. You can sign up to get notified when we launch it, or you can follow @AWSStartups on Twitter.
— Simone;