BitNami Cloud Hosting
I had a very pleasant phone call with Erica and Daniel of BitNami just yesterday. They gave me a complete briefing on their new BitNami Cloud Hosting product, which they just announced a few minutes ago.
BitNami Cloud Hosting is designed to make life easier for solution providers. The goal is to provide solution providers with the ability to easily launch, manage, and maintain a number of popular application and development stacks for their customers. Supported applications include:
SugarCRM (customer relationship management).
Redmine (project management).
JasperServer (reporting).
Alfresco WordPress, ezPublish, Joomla, ocPortal, Typo, and Drupal (blogging and content management).
Coppermine and Gallery (photo galleries).
Dokuwiki (documentation wiki).
Moodle (learning and course management).
Mantis (bug tracking).
phpBB (bulletin board).
Spree (e-commerce).
Tracks (GTD tracker).
You can deploy one or more applications on a single EC2 instance. Let's take a tour.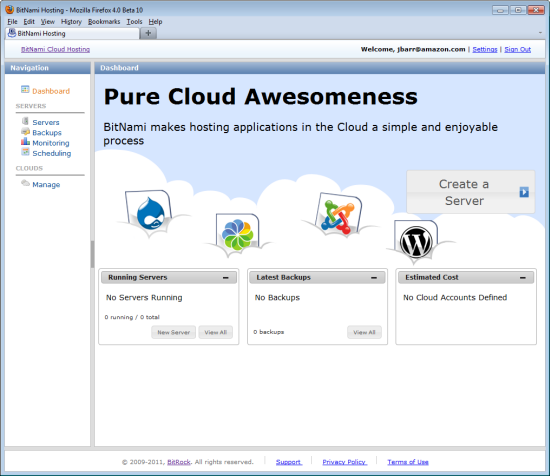 The first step is to create an account. You need to enter your AWS credentials here. Because this product is aimed at solution providers, you can even enter credentials for more than one AWS account. You could also enter AWS user credentials (created via AWS Identity and Access Management here if you'd like):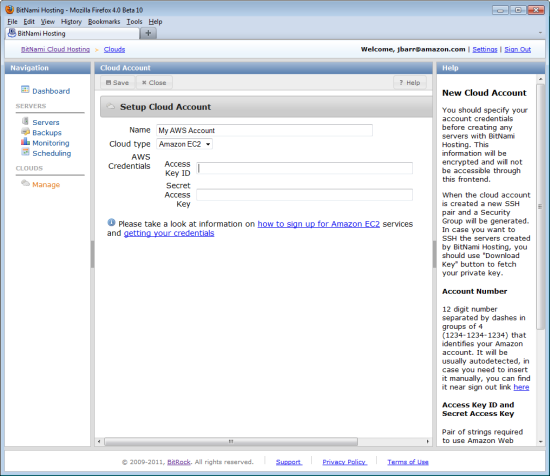 You can see all of your servers along with estimated monthly and hourly costs: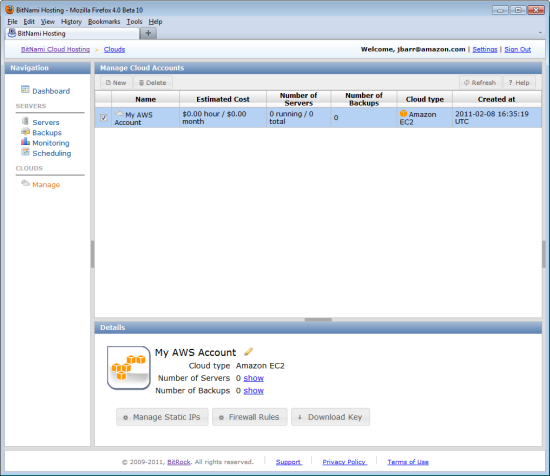 The next step is to create a server and choose the applications to run on it (you can run several applications on one EC2 server if you'd like):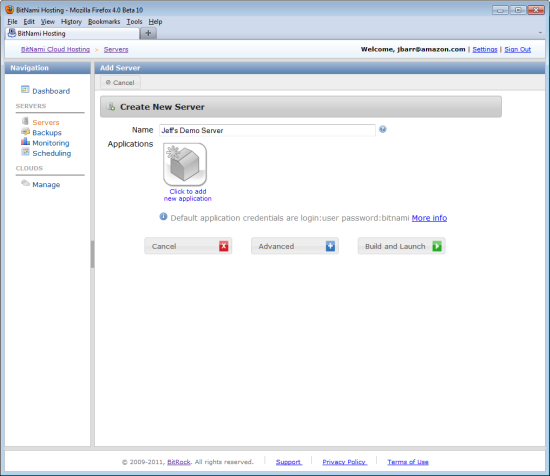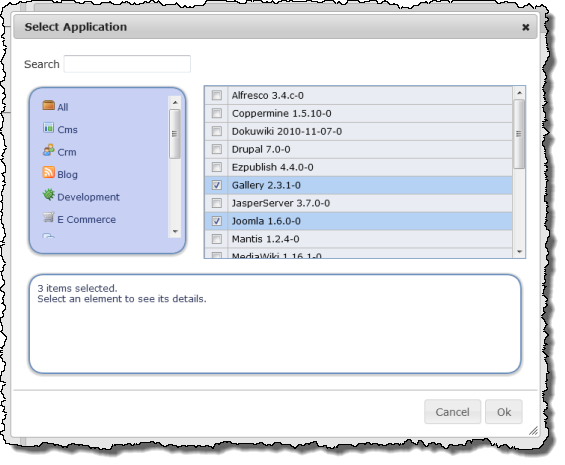 You can choose between 32 and 64 bit versions of Ubuntu Linux, choose an EC2 instance type, and configure the desired amount of disk space (this step is optional and defaults are supplied). Monthly costs are displayed for each option: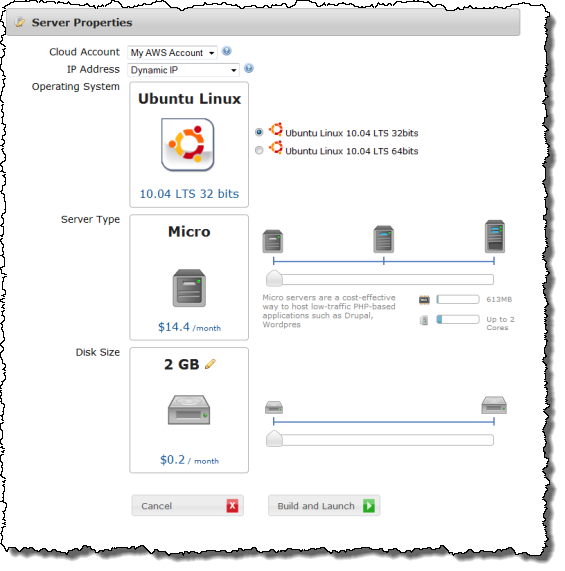 The server is up and running in a few minutes. Once running, it is easy to make backups (either impromptu or scheduled), assign an Elastic IP address, or to check the status of the server: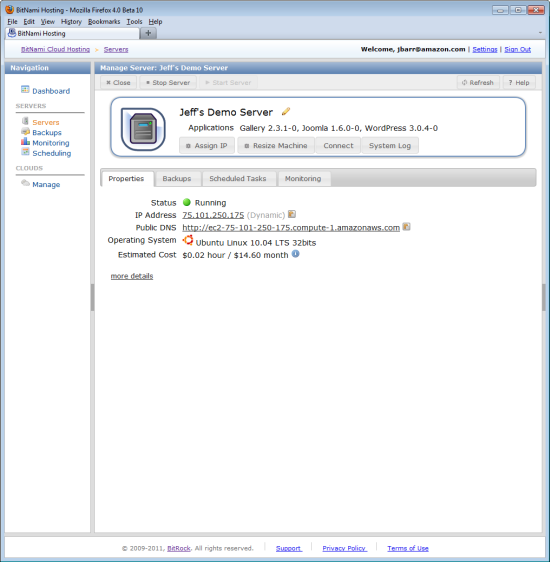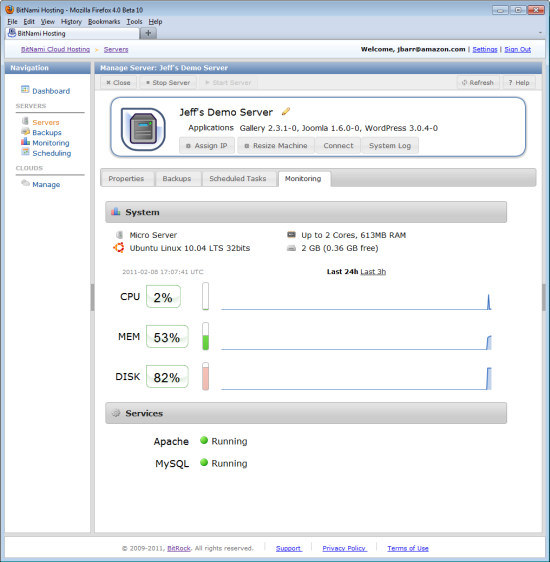 You can set up a schedule to run the server only at certain times of day, on certain days of the week:

Each server that you launch via BitNami provides access to your applications using a customized entry portal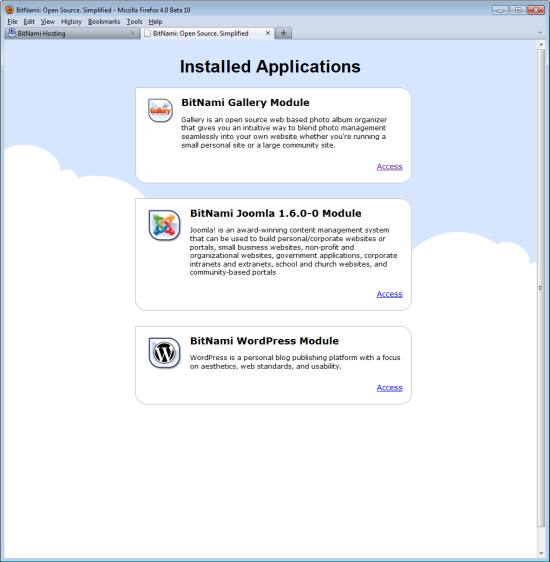 You can easily move your applications to a larger or smaller EC2 instance or adjust the amount of disk space that they available (Erica told me that they'll allow server resizing to be schedule-driven in the near future, giving you the ability to run a large server during the day and a small one at night):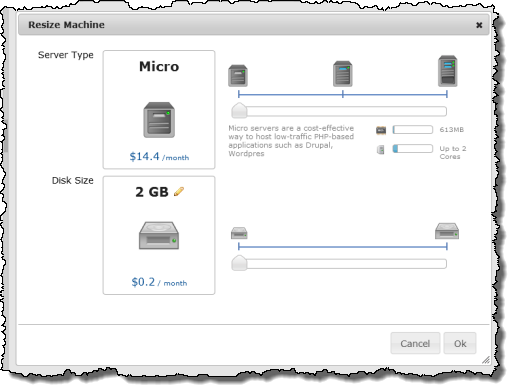 BitNami Cloud Hosting is available as a paid service (see the pricing plans) after a 30 day free trial. If you sign up before midnight on February 12, 2011, you'll get 3 months of free service. You'll pay the usual rates for your use of EC2 and EBS. If you are eligible for the AWS free usage tier you can use the free BitNami trial to get started without incurring any charges.
Erica and Daniel told me that they are working hard to add additional features to BitNami Cloud Hosting, including scheduled server resizing, support for regions other than US-East, additional Linux distributions, Microsoft Windows, and notifications.
You may also want to watch Erica's Bitnami Cloud Hosting Tour video.
— Jeff;
Modified 1/25/2021 – In an effort to ensure a great experience, expired links in this post have been updated or removed from the original post.