Delicious Library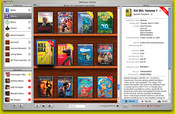 The Delicious Library application (powered by AWS) has been getting some great reviews:
Delicious Library is a beautiful looking personal inventory application. You scan the barcodes, it translates the bars into numbers, looks up the number on Amazon and finds your DVD, CD, book or game and adds all of its information to your personal library.
Delicious Library requires a Mac and OS X.