ECS-Powered Screen Saver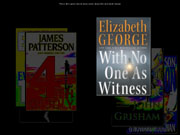 Software Poetry has produced the ECS-powered Amazon Screen Saver. Here's what they have to say:
Our free Amazon Screen Saver starts by getting a list of popular books from a random category at Amazon.com. After showing these for awhile, it begins wandering through Listmania lists, following titles to discover something new every time it runs. See something you like? Just hit the space bar and you'll be whisked off to Amazon to learn more.
The linked page provides information on customizing the screen saver with your favorite browse nodes. We've not yet run this at the office (we don't have permission to install screen savers on our desktop systems) but it sounds great.
Modified 1/29/2021 – In an effort to ensure a great experience, expired links in this post have been updated or removed from the original post.