FameTown – A New AWS-Powered Facebook Game
Amir of Diversion, Inc. wrote to tell me about his company's newest release, an AWS-powered Facebook game called FameTown.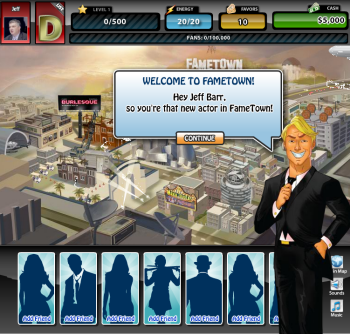 FameTown lets you play the role of a movie star in a digital version of Hollywood. You can start on the D-List (a total unknown) and attempt to progress to the A-List, earning points by completing tasks such as meeting with cast members and directors. You can also improve your social standing by attending parties and charity events, and you can hire agents, assistants, and publicists to further boost your career.
Under the hood, this Facebook game makes good use of AWS and a number of other technologies. Here's a summary:
Amir and I chatted about scalability. He told me that each application server runs on High CPU Extra Large (c1.xlarge) instance and can process 3000 to 3500 requests per second. Membase runs on a set of three Extra Large (m1.xlarge) instances and can handle over 100,000 requests per second.
I've not yet played FameTown (but I will), and I hope that Amir and company have a lot of success with it.
— Jeff;