First AWS Certification Study Guide Now Available
My colleague Joe Baron wrote the guest post below to introduce you to a book that he and his colleagues have put together!
— Jeff;
---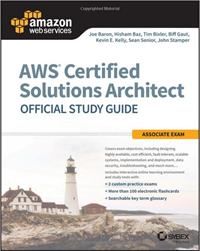 Are you studying for the AWS Certified Solutions Architect – Associate exam?
The new AWS Certified Solutions Architect Official Study Guide: Associate Exam has just been published by John Wiley & Sons, Inc., and is now available on Amazon.com in both paperback and Kindle format. The 455-page book helps prepare candidates for the AWS Certified Solutions Architect – Associate Exam. It was written by a very experienced team of subject matter experts, all part of the team that wrote, reviewed, and developed the AWS Certified Solutions Architect – Associate exam. The study guide includes an introduction to AWS, chapters on core AWS services, as well as information on AWS security, compliance, and architectural best practices. Each chapter includes targeted information on the topic, as well as key exam essentials, exercises, and chapter review questions (with answers in the appendix). The guide also gives you access to SYBEX online study tools such as practice exams, flashcards, chapter tests and assessment tests.
In addition to the new book, we have a half-day workshop to help you prepare for the exam. In the AWS Certification Exam Readiness Workshop: AWS Certified Solutions Architect – Associate, we review what to expect at the testing center and while taking the exam. We walk you through how the exam is structured, as well as teach you how to interpret the concepts being tested so that you can better eliminate incorrect responses. You will also have the chance to test concepts we cover through a series of practice exam questions. At the end of the class, you will receive a voucher to take an online practice exam at no cost.
If you will be attending AWS re:Invent this year, you can purchase a study guide now so that you can prepare to take the Solutions Architect – Associate exam on-site (reserve your seat now).
Joe Baron, Principal Solutions Architect