Hit Builder – Simplifying the Process of Creating a HIT for The Mechanical Turk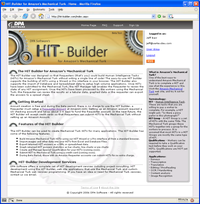 DPA Software's HIT Builder is now accessible for beta testing. Using this site, it is now possible to create, manage, and collect results from Mechanical Turk HITs without writing any code.The site features both "Pro" and "Wizard" interfaces, with clean and functional tabbed dialogs to lead new Requesters through each step of the process.
The HIT managment process is broken down in to 4 major steps: Build HITs, Qualifications, Results, and Manage HITs. Each step includes a Getting Started page and a number of tabs with detailed information and well-labeled prompts.
I have finally created and funded my very own Requester account. As soon as my funds are available, I will create a walk-through of the entire HIT-building process.
Not thatI am old or anything, but when I hear "HIT" I still think of Casey Kasem, American Top 40, and audio cassettes. For a long time the show's jingle was "The Hits from Coast to Coast."
— Jeff;
Modified 2/1/2021 – In an effort to ensure a great experience, expired links in this post have been updated or removed from the original post.