Infographic – Top 5 Findings: Global Knowledge's IT Skills and Salary Report
As we see more customers transition their business to the cloud, we are also seeing increased demand in the market for skilled IT professionals who are capable of designing, deploying, and operating applications and infrastructure on AWS. IT certifications are considered a gold standard for validating technical proficiency and one's ability to perform on the job. Obtaining certification is often a pathway for IT professionals to move into roles offering expanded responsibilities. Training that leads you toward earning IT certification is becoming more important as individuals look to grow their careers and customers build institutional knowledge and skills within their organizations.
Global Knowledge recently released their 2016 IT Skills and Salary Report (registration required). The report is based on input from more than 10,000 IT and business professionals in North America who responded to Global Knowledge's ninth annual IT Skills and Salary Survey, one of the largest of its kind. Global Knowledge's findings highlight the importance of training and also show the value of AWS Certifications for AWS Certified individuals.
Top 5 Findings
I'd like to highlight the top 5 findings that stood out in this year's report:
Three-fourths of respondents said they participate in some form of professional development to build new skills, and half said preparing for a career certification or specialist exam is a top motivator.
Overall, 59% of IT professionals are currently working on, or plan to pursue, some form of certification within the current year.
Of respondents who pursued certification in the preceding year, 73% noted an increase in their job effectiveness because of related training.
21% of those who reported a significant raise (11 percent or greater) attribute it to the development of new skills that were of added value.
Employees in organizations with training plans in place reported being less likely to leave their companies (78 percent versus 73 percent for those without a plan and 69 percent for those who were unsure if such plans exist).
These are some really interesting findings; here's a summary in infographic form (please feel free to share it):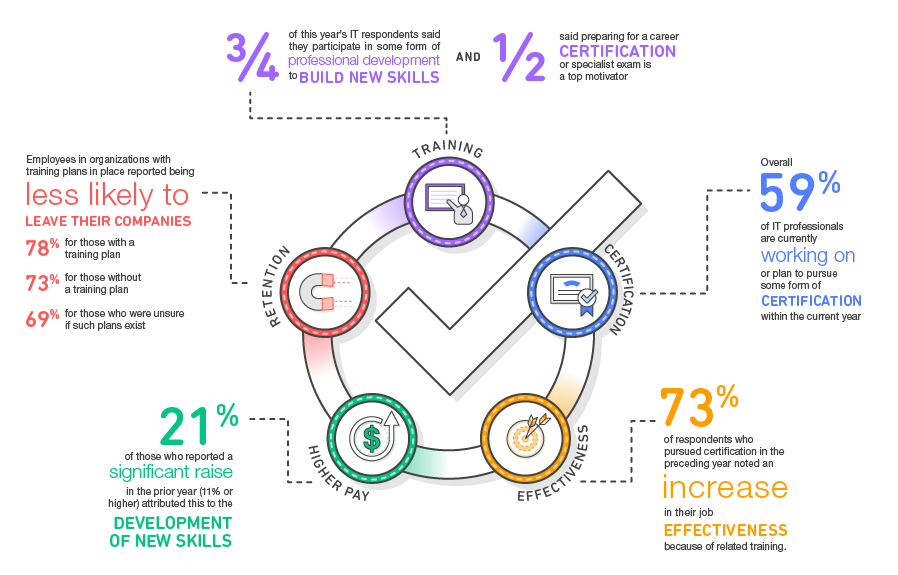 AWS Training & Certification
As a reminder, AWS currently has 5 certifications spanning roles of Solutions Architect, SysOps Administrator, Developer, and DevOps Engineer. AWS also offers several ways to help you prepare for exams, including a portfolio of technical training courses. Whether you're looking to take a self-paced and online lab or dive deep with a technical instructor, we have training for everyone's needs.
Global Knowledge is one of our many APN Training Partners which are authorized to deliver AWS Training around the globe. You can find available classes in our Global Class Schedule or contact us to arrange for onsite training.
— Jeff;