Middlepost – Online Document Collaboration and Storage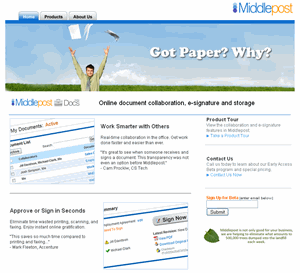 Middlepost is an online document collaboration and storage tool powered by Amazon EC2, SQS, and S3.
The site manages the entire creation, revision, and signing process for documents.
During creation and revision, Middlepost tracks all of the changes and comments associated the document, supporting both internal and external collaborators. Each collaborator has a profile with verified personal data, and plays a role in the process (creator, signer, approver, or observer).
Interested parties receive notification whenever a document is changed, ensuring that everyone is always looking at the latest version of the document.
Once the document is complete, Middlepost routes the document to the designated signers for on-line signing, and can then produce a complete, digitally signed document.
Finished documents are stored for a specified time period (default is 10 years) and cannot be modified once signed. The documents are signed with 128 bit encryption and stored redundantly using Amazon S3.
Travis Reeder, CTO of Middlepost, told me that SQS allowed them to build the system in a loosely coupled fashion. He also told me that:
From a cost and maintenance perspective, we're really excited about the fact that we'll never really have to think about storage limits and the costs are so minimal that it's barely a concern. That takes a huge load off our shoulders since we're storing very important and critical documents.
Learn more at their site, or track their progress on the Middlepost blog.
— Jeff;