My Big River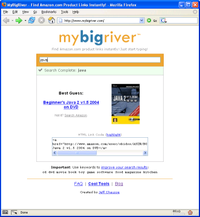 My Big River uses AWS and Ajax technology to make it really easy to create links to specific Amazon products. Simply go to the site and start typing, and the best match will be displayed in a matter of seconds. The match is displayed along with the HTML needed to link to the product.
You can also access My Big River using a bookmarklet or a Firefox search addin.
The product uses the ECS blended search, which is apparently biased toward returning DVD results. There's a bit more of an explanation of this phenomenon in this blog entry.
— Jeff;