New Amazon EC2 Features: Resource Tagging, Idempotency, Filtering, Bring Your Own Keys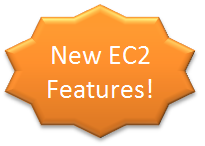 We've just introduced four cool new features for Amazon EC2. Instead of trying to squeeze all of the information in to one ridiculously long post, I've written four separate posts. Here's what we introduced:
The posts are linked to each other, so you can start at Resource Tagging and read each of them in turn.
— Jeff;