New AWS Case Study – Livemocha's use of Amazon SimpleDB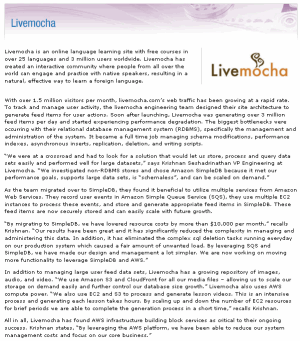 We just posted a new case study.
Read it to learn more about how Livemocha uses Amazon SimpleDB to create an online language learning community for over 3 million users and 25 distinct languages.
Their VP of Engineering estimates that they have saved over $10,000 per month by migrating to SimpleDB and also notes that they have significantly reduced the amount of time they spent managing and administering the data.
They also use SQS, S3, EC2, and CloudFront.
— Jeff;