New Education & Research Category in AWS Marketplace
AWS Marketplace makes it easy for you to find, buy, and immediately start using software and services in a wide variety of categories including Software Infrastructure, Developer Tools, and Business Software.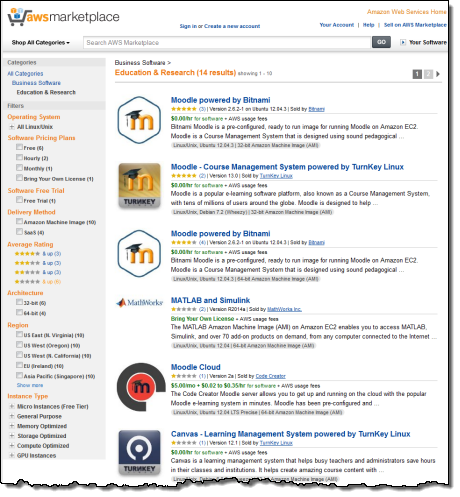 Today we are enhancing AWS Marketplace with a brand new Education & Research software category. The products in this category are designed to meets the needs of the Education and Research industries, with solutions targeted at K-12 and higher education. Students, academic administrators, instructors, and researchers can now purchase software that has been tested, vetted, and approved. With free trials and hourly and monthly pricing models, launching and testing products for applicability is easy and cost-effective.
We're starting out with a portfolio tracking and social networking tool (Mahara), a pair of Learning Management Systems (Canvas and Moodle), three virtual labs (MIMIC Virtual Lab, Cloud vLab, and MATLAB/Simulink), and three video collaboration and conferencing tools (Adobe Connect, Zoom Cloud Meetings, and Collaaj). Over time we hope to add additional categories such as e-portfolio systems, content management platforms, massively open online course platforms, student information systems, and all sorts of learning tools. If you are the developer or distributor of educational tools that fit one of these categories (or one that we didn't think of), consider selling on AWS Marketplace.
— Jeff;
PS – Don't forget the Education page on the AWS site or the AWS Education Grants Program.
Modified 2/10/2021 – In an effort to ensure a great experience, expired links in this post have been updated or removed from the original post.