New – Run SAP HANA on Clusters of X1 Instances
My colleague Steven Jones wrote the guest post below in order to tell you about an impressive new way to use SAP HANA for large-scale workloads.
— Jeff;
---
Back in May we announced the availability of our new X1 instance type x1.32xlarge, our latest addition to the Amazon EC2 memory-optimized instance family with 2 TB of RAM, purpose built for running large-scale, in-memory applications and in-memory databases like SAP HANA in the AWS cloud.
At the same time, we announced SAP certification for single-node deployments of SAP HANA on X1 and since then many AWS customers have been making use of X1 across the globe for a broad range of HANA OLTP use cases including S/4HANA, Suite on HANA, Business Warehouse on HANA, and other OLAP based BI strategies. Even so, many customers have been asking for the ability to use SAP HANA with X1 instances clustered together in scale-out fashion.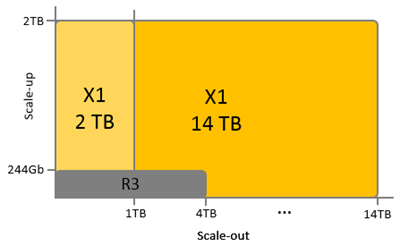 After extensive testing and benchmarking of scale-out HANA clusters in accordance with SAP's certification processes we're pleased to announce that today in conjunction with the announcement of BW/4HANA, SAP's highly optimized next generation business warehouse, our AWS X1 instances are now certified by SAP for large scale-out OLAP deployments including BW/4HANA for up to 7 nodes or 14 TB of RAM. We are excited to be able to support the launch of SAP's new flagship Business Warehouse offering BW4/HANA with new flexible, scalable, and cost effective deployment options.
Here's a screenshot from HANA Studio showing a large (14 TB) scale-out cluster running on seven X1 instances: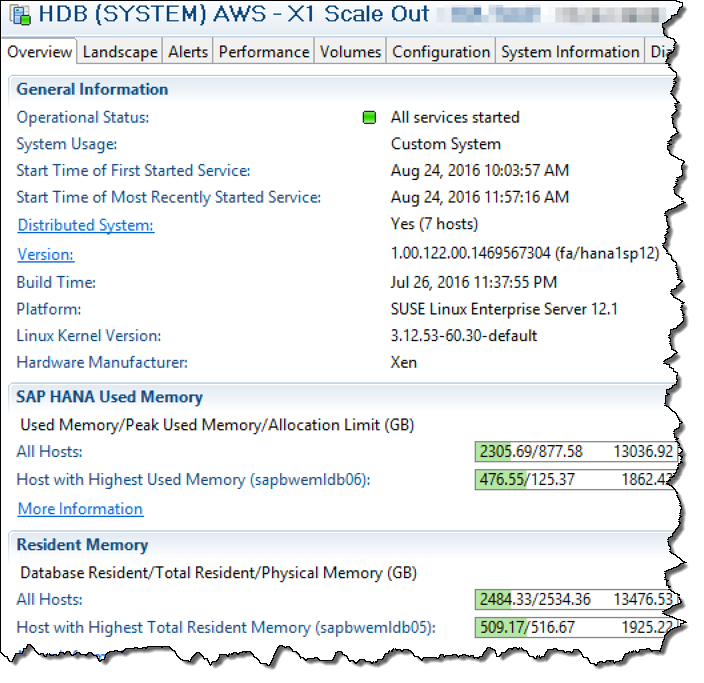 And this is just the beginning; as indicated, we have plans to make X1 instances available in other sizes and we are testing even larger clusters in the range of 50 TB in our lab. If you need scale-out clusters larger than 14 TB, please contact us; we'd like to work with you.
Reduced Cost and Complexity
Many AWS customers have also been running SAP HANA in scale-out fashion across multiple R3 instances. This new certification brings the ability to consolidate larger scale-out deployments onto fewer larger instances, reducing both cost and complexity. See our SAP HANA Migration guide for details on consolidation strategies.
Flexible High-Availability Options
The AWS platform brings a wide variety of options depending on your needs for ensuring critical SAP HANA deployments like S/4HANA and BW/4HANA are highly available. In fact, customers who have run scale-out deployments of SAP HANA on premises, or with traditional hosting providers, tell us they often have to pay expensive maintenance contracts in addition to purchasing standby nodes or spare hardware to be able to rapidly respond to hardware failures. Others unfortunately forgo this extra hardware and hope nothing happens.
One particularly useful option customers are leveraging on AWS platform is a solution called Amazon EC2 Auto Recovery. Customers simply create an Amazon CloudWatch alarm that monitors their EC2 instance(s) which automatically recovers the instance to a healthy host if it becomes impaired due to an underlying hardware failure or a problem that requires AWS involvement to repair. A recovered instance is identical to the original instance, including attached EBS storage volumes as well as other configurations such as hostname, IP address, and AWS instance IDs. Standard pricing for Amazon CloudWatch applies (for example $0.10 per alarm per month us-east). Essentially this allows you to leverage our spare capacity for rapid recovery while we take care of the unhealthy hardware.

Getting Started
You can deploy your own production ready single-node HANA or scale-out HANA solution on X1 using the updated AWS Quick Start Reference Deployment for SAP HANA in less than an hour using well-tested configurations.
Be sure to also review our SAP HANA Implementation and Operations Guide for other guidance and best practices when planning your SAP HANA implementation on Amazon Web Services.
Are you in the Bay Area on September 7 and want to join us for an exciting AWS and SAP announcement? Register here and we'll see you in San Francisco!
Can't make it? Join our livestream on September 7 at 9 AM PST and learn how AWS and SAP are working together to provide value for SAP customers.
We look forward to serving you.
— Steven Jones, Senior Manager, AWS Solutions Architecture
Modified 2/10/2021 – In an effort to ensure a great experience, expired links in this post have been updated or removed from the original post.