New VM Import Options for EC2
When I discuss AWS with enterprise customers, they often ask me how they can take advantage of their existing investments in on-premises virtualization. They want to take advantage of their existing "golden" images and the development, deployment, and certification processes that go along with them.
Fortunately, I am able to tell them about two separate aspects of AWS – VM Import / Export and the AWS Management Portal for vCenter. Both of these tools allow our enterprise customers to bring their existing virtual machine images in to AWS and to start making good use of them in short order.
Today we are expanding both tools with support for additional operating systems. The AWS Management Portal for vCenter is now able to import complex, multi-volume VMs to EC2.
New Operating System Support
In addition to support for the existing lineup of Windows and Linux operating system (read the VM Import/Export Prerequisites for a full list), you can now import the following operating system images in to EC2:
SUSE/SLES 11-12
Oracle Enterprise Linux 6-7
Fedora 19-21
Windows 10
AWS Management Portal for vCenter Updates
The portal is now capable of importing any operating system image that is accepted by VM Import/Export, including multi-volume VMware images. The importing process creates Amazon Machine Images (AMIs) and EC2 instances.
Here's what the import process looks like from within the portal: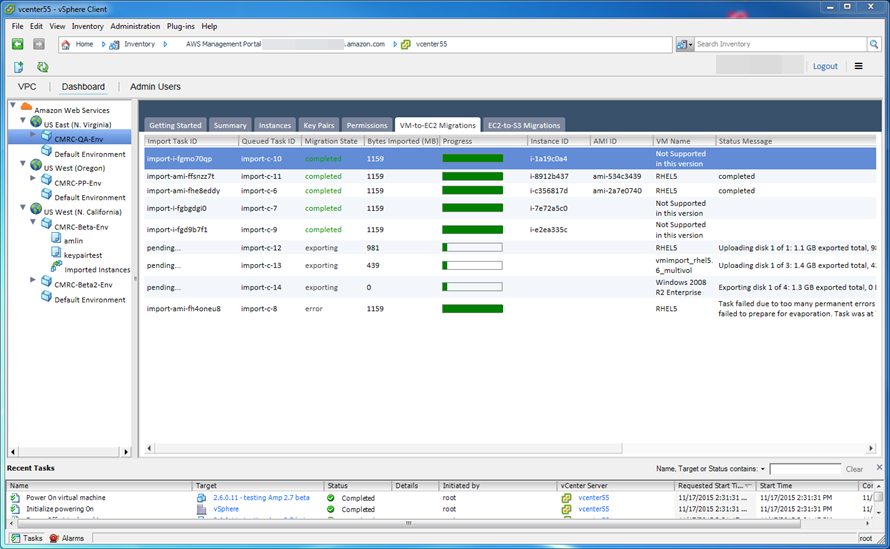 In order to make use of these features, you will need to enable auto-upgrade in the portal or download the latest version of the portal.
These features are available now and you can start using them today!
— Jeff;