New Whitepaper: Using AWS for Disaster Recovery
Update March 18, 2021 – Please see our latest whitepaper: Disaster Recovery of Workloads on AWS: Recovery in the Cloud. You can also view our recovery in the cloud webinar here.
Disaster recovery (DR) is one of most important use cases that we hear from our customers. Having your own DR site in the cloud ready and on standby, without having to pay for the hardware, power, bandwidth, cooling, space and system administration and quickly launch resources in cloud, when you really need it (when disaster strikes in your datacenter) makes the AWS cloud the perfect solution for DR. You can quickly recover from a disaster and ensure business continuity of your applications while keeping your costs down.
Disaster recovery is about preparing for and recovering from a disaster. Any event that has a negative impact on your business continuity or finances could be termed a disaster. This could be hardware or software failure, a network outage, a power outage, physical damage to a building like fire or flooding, human error, or some other significant disaster.
In that regard, we are very excited to release Using AWS for Disaster Recovery Whitepaper. The paper highlights various AWS features and services that you can leverage for your DR processes and shows different architectural approaches on how to recover from a disaster. Depending on your Recovery Time Objective (RTO) and Recovery Point Objective (RPO) – two commonly used industry terms when building your DR strategy – you have the flexibility to choose the right approach that fits your budget. The approaches could be as minimum as backup and restore from the cloud or full-scale multi-site solution deployed in onsite and AWS with data replication and mirroring.
The paper further provides recommendations on how you can improve your DR plan and leverage the full potential of AWS for your Disaster Recovery processes.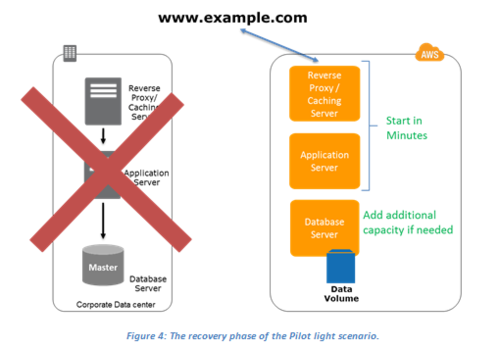 Download Whitepaper (PDF) – (more whitepapers available at http://aws.amazon.com/whitepapers)
AWS cloud not only makes it cost-effective to do DR in the cloud but also makes it easy, secure and reliable. With APIs and right automation in place, you can fire up and test whether you DR solution really works (and do that every month, if you like) and be prepared ahead of time. You can reduce your recovery times by quickly provisioning pre-configured resources (AMIs) when you need them or cutover to already provisioned DR site (and then scaling gradually as you need). You can bake the necessary security best practices into an AWS CloudFormation template and provision the resources in an Amazon Virtual Private Cloud (VPC). All at the fraction of the cost of conventional DR.
How are you using the cloud for Disaster Recovery today? Please do share your general feedback about DR and any feedback regarding the whitepaper that you might have.
– Jinesh