New Professional Level Certification Exam Available for AWS Solutions Architects
We launched the AWS Global Certification Program in April of 2013. Targeted at Solutions Architects, SysOps Administrators, and Developers, this program allows you, as an individual, to certify your skills and technical knowledge in the planning, deployment, and management of systems that use AWS. Once you complete the certification requirements, you will receive an AWS Certified logo badge that you can use on your business cards and other professional collateral to gain visibility for your proven expertise with AWS.
Today we are enhancing the program with the addition of our first exam at the Professional Level. Going above and beyond the requirements of the existing Associate Level, the new AWS Certified Solutions Architect – Professional Level exam validates advanced technical skills and experience and represents the next level of proficiency along the AWS Certified Solutions Architect path, with a focus on the design and development of distributed systems.
AWS Certified Solutions Architect – Professional Level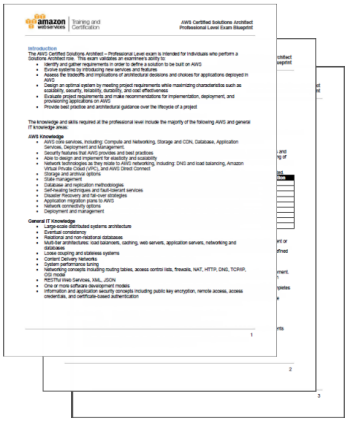 To be eligible for this exam, you must already be certified at the AWS Certified Solutions Architect – Associate Level. You should have multiple years of hands-on experience designing and deploying cloud architecture on AWS, along with the ability to evaluate cloud application requirements and make architectural recommendations for implementation, deployment, and provisioning applications on AWS. Additionally, you should have the experience and the capability to provide best practices guidance on the architectural design across multiple applications, projects, or the enterprise.
This exam tests your knowledge of advanced AWS use cases. Before you take this exam you should make sure that you understand the following concepts:
Designing and deploying dynamically scalable, highly available, fault-tolerant, and reliable applications on AWS.
Selecting appropriate AWS services to design and deploy an application based on a set of requirements.
Migrating complex, multi-tier applications to AWS.
Designing and deploying enterprise-wide scalable operations on AWS.
Implementing cost control strategies.
Our Exam Guide will help you to prepare for this exam. The guide outlines the knowledge (both AWS and general IT) that you will need to have, and also contains links to the training courses and online materials with additional information.
If you already have your AWS Certified Solutions Architect – Associate Level certification and you're ready to take the next step, go ahead and schedule your exam.
If you are looking for training to help with your preparation for this exam, we offer an instructor-led Architecting on AWS – Advanced Concepts course. Use the code MK20BRAADV314 when you register for the course and you will receive a 20% discount through September 30, 2014. This discount applies to classes delivered by AWS, and excludes classes delivered by our APN Training Partners.
— Jeff;