Run Oracle Applications on Amazon EC2
A wide variety of Oracle applications have been certified for use on Amazon EC2 with virtualization provided by the Oracle VM (OVM). The following products are now fully certified and supported and you'll be able to run them in the cloud on production workloads before too long: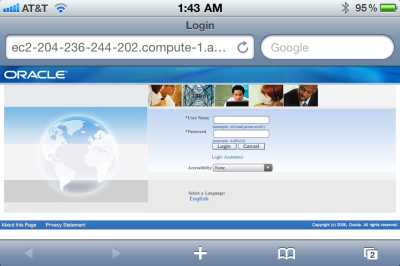 These applications will be available in the form of Amazon Machine Images (AMIs) that you can launch from the AWS Management Console and from other EC2 management tools.
You can use your existing Oracle licenses at no additional license cost or you can acquire new licenses from Oracle. We implemented OVM support on Amazon EC2 with hard partitioning so Oracle's standard partitioned processor licensing models apply.
Working together with Oracle, we will publish a set of pre-configured AMIs based on the Oracle VM Templates so that you can be up and running in a matter of minutes instead of weeks or even months.
We'll start with Oracle Linux, Oracle Database 11gR2, Oracle E-Business Suite, and a number of Oracle Fusion Middleware technologies including Oracle Weblogic Server and Oracle Business Process Management. After that, we'll add AMIs for PeopleSoft, Siebel, and JD Edwards.
You'll be able to take advantage of notable EC2 features such as Elastic Load Balancing, Auto Scaling, Security Groups, Amazon CloudWatch and Reserved Instance pricing.
To learn more about running Oracle applications on EC2 and to register to be notified when application templates become available, visit the Oracle and Amazon Web Services page.
If you are at Oracle OpenWorld this week (September 19-23, 2010), please stop by the AWS booth and say hello to our team.
— Jeff;
Modified 2/11/2021 – In an effort to ensure a great experience, expired links in this post have been updated or removed from the original post.