Lots of SAP News to Start the Week
Last week one of my colleagues stopped me in the hall and said "Jeff, you have to tell our customers about all of the great work that we are doing with SAP." I asked him for some details and he was happy to oblige.
SAP Business All-in-One is an important piece of enterprise software, a package that is mission critical for many companies. It includes Enterprise Resource Planning (ERP), Customer Relationship Management (CRM), Supplier Relationship Management (SRM), and Business Intelligence (BI) functions.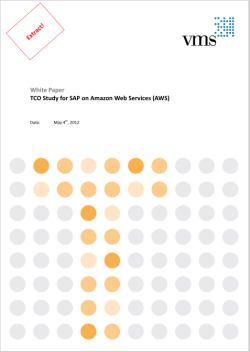 The first big piece of news is that we are expanding the range of SAP certified solutions on AWS. This includes:
SAP Business All-in-One on Linux.
SAP Business All-in-One on Microsoft Windows.
Expanded certification for SAP Rapid Deployment solutions on Windows Server 2008 R2.
Expanded certification for SAP Business Objects on Windows Server 2008 R2.
Second, AWS partner VMS (a German management consultant staffed by a number of ex-SAP executives), has published a new SAP TCO analysis. Their research shows that running SAP on AWS can results in an infrastructure cost savings of up to 69%, when compared to on-premises or colo-based hosting. You can read the executive summary to learn more.
VMS computed a CWI (Cloud Worthiness Index) value of 59 for SAP running on AWS. The CWI was designed to quantify the economic value of the cloud, and is based on VMS's measurements of over 2,600 SAP systems. It accounts for TCO and best practices, both with and without the cloud. You can read more about the CWI here.
Third, we have announced a number of other SAP offerings on AWS:
You can now process Big Data on SAP on AWS using their new HANA in-memory database. SAP has published a comprehensive getting started guide and they are also offering a 30-day free trial for testing and evaluation.
SAP Afaria makes it easy to build and deploy mobile applications that connect mobile workers to business data. Afaria handles a number of important aspects of this including password and certificate management, an application portal, and a management console. You can launch Afaria from the AWS Marketplace (register for the 14-day free trial if you don't have a license).
You can find case studies and technical papers on our SAP microsite.
— Jeff;
Modified 2/11/2021 – In an effort to ensure a great experience, expired links in this post have been updated or removed from the original post.