The AWS Partner Network (APN) is Now Live
The AWS Partner Network (APN) is now live, with three tiers and a wide variety of benefits at each tier. This is a global program, accessible to customers and partners world-wide.
In addition to the official launch of APN, we are also enhancing our AWS Channel Reseller Program and setting up a new Authorized Government Partner designation.
If you are an AWS user, APN gives you the power to find high quality partners to help you get the most from the AWS cloud. You can get started by searching the AWS Partner Directory: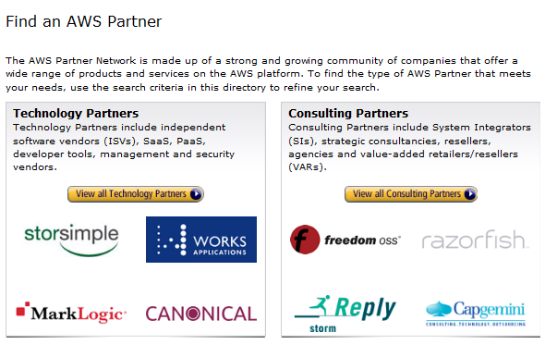 If you are part of the AWS partner ecosystem, APN provides you with the technical, sales, and marketing support that you need to build a successful cloud business. The program offers benefits to Technology Partners who develop applications and developer tools on top of AWS and Consulting Partners who help our customers to get up and running on AWS.
As an APN partner, you qualify for one of three tiers – Registered, Standard, or Advanced, with specific benefits at each level. Registered Partners have access to the following items:
Partner training
Partner webinars
Partner events
Partner newsletter
Standard Partners also get:
$1,000 per year credit toward the required AWS Support
$1,000 per year in AWS service credits
APN Partner logo
Listing in the AWS Partner Directory
Advanced partners receive all of the above and also:
APN Advanced Partner logo
Advanced listing in the AWS Partner Directory
Read more about the Technology Partner and Consulting Partner benefits.
We are also expanding the AWS Channel Reseller Program. This program is designed for Systems Integrators and Managed Service Providers who provide professional services on the AWS platform and wish to resell and manage AWS services for their customers. Advanced tier partners can qualify as Channel Reseller Partners to gain eligibility for discounts on published AWS pricing and public designation as an AWS Channel Partner. These partners must own and manage AWS accounts on behalf of customers, provide help desk support, and meet several other criteria.
Finally, we are also launching a new Authorized Government Partner designation. This designation is reserved for AWS Partners with a public sector AWS practice and a desire to target public sector customers at the Federal, State, and Local levels. Standard and Advanced tier partners can qualify for this designation if they have at least two government (Federal, State, or Local) contracts at the prime level that are eligible AWS customers. The partner must execute a Government addendum to the AWS Reseller Agreement, and meet other requirements.
— Jeff;