AWS momentum with SAP
As I look back on what our SAP on AWS customers have achieved together the past year, the word that comes to my mind is momentum. This takes me back to my college days where, as an engineering student, I learned that momentum is quantified as the product of mass and velocity. I'd like to frame this post using that equation.
Mass
First, I want to discuss mass, or customer adoption. Today, AWS is excited to announce that more than 5,000 active AWS customers run SAP on AWS and over half of these customers have deployed SAP HANA-based solutions on AWS. That's massive!
It's been overwhelming to see the levels of deep collaboration and trust that our customers have had with us to run their most business-critical applications on AWS. Across the board, these customers are seeing that AWS offers them choice. Their stories range from the lift-and-shift of existing ECC environments to complete S/4HANA transformations and innovation on top of SAP cloud landscapes with AI/ML, IoT, data lakes, voice, and more.
At AWS, we innovate on behalf of you! We've loved partnering with you to migrate and modernize. Have a look at some of the recent customer stories, like Swire Coca-Cola and Cambridge University Press who have gone all-in on AWS, including the migration of their entire SAP environments to AWS. Others, like ENGIE, Liberty Mutual, Lion, IDO, Utopia, and USHIO, migrated SAP to AWS and are now implementing additional AWS services for innovation in their SAP environments.
As customers continue to adopt AWS to run their SAP solutions, we continue to share their stories and successes. If you are interested in being part of this growing group of enterprises, feel free to connect with us.
Velocity
Massive customer adoption doesn't happen without velocity: solution development, delivery speed, and agility to innovate. Our experience with SAP over the past 11 years has helped us learn what customers need, and what really works.
Our alliance started in 2008, when SAP started using AWS to spin up demo systems. It continues today, where we now have the most certifications of any cloud provider, and more cloud regions running SAP Cloud Platform (SCP). We have 5x more available SCP services, and more than 165 AWS services that can be used to extend your business applications.
On the keynote stages of SAP TechEd and SAP Connect in 2019, we introduced industry firsts, including general availability of 18-TB and 24-TB cloud-native instances for SAP HANA. Today, AWS is the only cloud provider that is certified to support 48 TB for SAP S/4HANA and 100 TB for SAP B/W applications.
But our relationship with SAP extends beyond instance certification. Today, SAP is one of the biggest AWS customers, and uses AWS for many of their offerings:
HANA Enterprise Cloud, which has been running on AWS for years.
SAP NS2, which runs exclusively on AWS to support our joint US Public Sector customers, including the Navy.
SAP Cloud Platform, where customers and partners can create new solutions, connect with SAP SaaS Solutions and extend those solutions with AWS Services.
True SaaS solutions such as SAP Concur, QualtricsXM, and SAP SuccessFactors for US government agencies, which are run on AWS.
SAP HANA Cloud, SAP Data Warehouse Cloud, and SAP Analytics Cloud were also announced this year. With these services, AWS serves SAP HANA in containers, providing true elasticity and as-a-service availability, creating a more agile platform for developer and analytics communities.
We also continue to collaborate with SAP on joint IoT offerings, where we can connect cloud-to-cloud and edge-to-edge. That allows your applications to become smart about the semantic data of physical assets in business environments.
Finally, SAP Data Custodian for AWS was launched this year. It addresses customer needs around compliance, GDPR, and security in the cloud.
The speed of innovation between AWS and SAP has supported a velocity that's unmatched, and our customers have been reaping the many benefits of this partnership.
Over the years, we've seen that many of our customers are experiencing gaps in the skills necessary to undertake their desired SAP journeys. For that, we've leaned on our AWS Partner Network (APN) partners. Over the years, these partners have been supporting the many successful customer deployments of SAP on AWS across industries and all over the world.
An important subset of these APN Partners is those who have achieved SAP Competency status. This competency demonstrates experience, enablement, and access to support our customers in their SAP journey.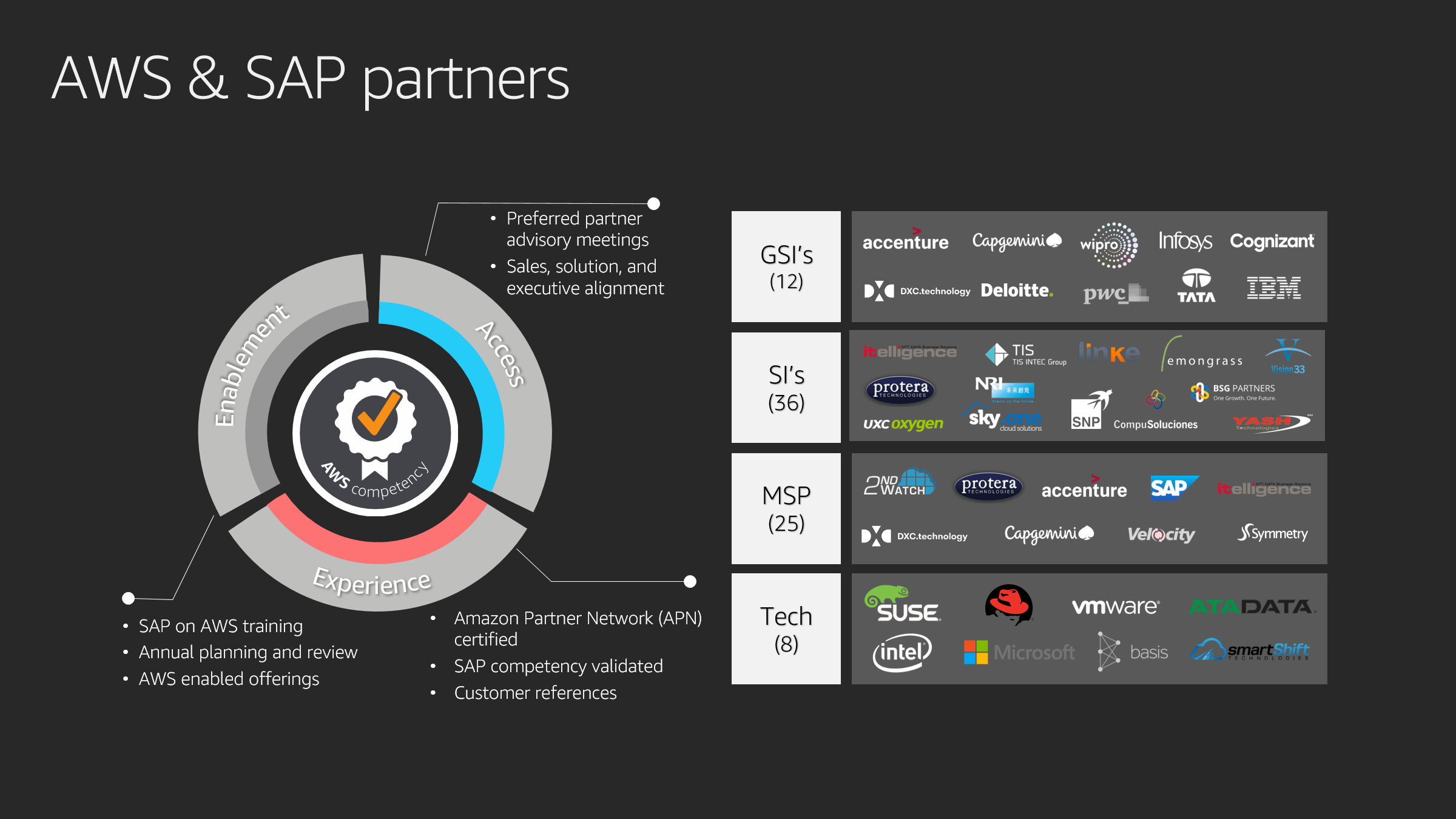 Momentum
Based on these topics, we arrive at momentum. Our active customer base and vibrant partnership with SAP are representative of the momentum that we've experienced this year. We are the platform of choice for customer journeys to the cloud.
We look forward to sharing more, and featuring some customer journeys at re:Invent 2019 this week, including a breakout featuring HP, ENGIE, and SAP, one featuring Heineken, and another featuring Phillips 66. For a full list of SAP sessions at re:Invent and to learn more, see AWS and SAP.
If you have any questions or want to set up a discovery workshop to begin evaluating your journey, send us an email at sap-on-aws-team@amazon.com.