Partner conversations: Mobiquity – Innovating for the new normal
Introduction for blog series
As retailers around the world are managing through unprecedented disruption, industry leaders are demonstrating resilience, tenacity, and a capacity for innovation. We've embarked on a series of conversations with executives from AWS Strategic Partners, showcasing leadership and innovation in times of challenge. We hope you enjoy our blog series. If you have questions or suggestions, please comment on this blog.
—
Introduction for this blog
We're excited to kick off our new blog series, "Partner conversations: Innovating for the new normal". In our first blog, we chatted with Dominick Profico, the CTO of Mobiquity, a digital consulting firm that provides end-to-end omnichannel solutions for leading retail brands. He shared his thoughts about how innovative technologies can help retailers manage the disruption of the pandemic and what lies ahead for the retail industry.
Q: AWS—Help our readers understand your vantage point. What are Mobiquity's key segments in the retail industry, and with what type of retail executives do you interact?
A: Dominick Profico, CTO, Mobiquity—Our company focuses on convenience stores, quick-service restaurants, and other specialty retailers. Within these retailers, we engage with business leaders, marketing, IT, and digital technology executives. We've recently witnessed a greater willingness from a wider audience within our customer organizations to engage in transformational projects. Since COVID-19 has changed the way companies operate, retailers are seeking ways to be more effective.
Q: AWS—Retail companies are managing through a period of unprecedented disruption. What have been the biggest challenges facing your retail customers?
A: CTO, Mobiquity—The most obvious challenge for many retailers is that their brick and mortar stores struggled as shutdowns were implemented around the country—and many are still struggling. However, given that it's unlikely we will ever go back to the pre-pandemic "normal," companies that rely heavily on brick-and-mortar locations need to think about creating an effective digital program.
One of our clients recently consolidated all of their digital transactions on a new platform. When COVID-19 began, they needed to transition all of their customers to digital interfaces. Mobility built a digital payment platform so the company could seamlessly increase their transaction load. However, even digitally mature companies are challenged by the influx of more and more digital users. Regardless of where a retailer falls on the digital maturity scale, everyone has skin in the game, and everyone has an opportunity to enhance the customer experience.
Q: AWS—How do you see retailers adjusting their operating environments to current market dynamics and changing consumer expectations?
A: CTO, Mobiquity—Some companies are doing a great job. For example, Domino's is running a commercial that shows their team discussing how to make the experience of pizza delivery easier and safer for their customers. One of the Domino's associates suggests throwing a pizza like a frisbee into your car. When that idea fails, the Domino's team lands on curbside delivery. This is the kind of thinking that all retailers should be doing: figuring out how to adapt to changing market conditions and consumer expectations. It's impressive to see how quickly retailers, and consumers, are pivoting to the "new normal," and I think we're going to see many more pivots. Now that customers have experienced this higher level of convenience, they won't want to go back.
Q: AWS—The retail industry is incredibly resilient. As you look forward, what role do you think technology and the cloud will play for retailers? How do you see technology enhancing the customer experience and improving operational efficiencies?
A: CTO, Mobiquity—Cloud is the great equalizer, and Amazon is a great example of a retailer ramping up—very quickly I might add—to handle a huge influx of orders and deliveries to delight customers during a very difficult time. Technology enabled Amazon to be resilient and effective, and other retailers can do the same by investing in the cloud. One of the key benefits of the cloud is not having to manage a data center. In addition, you can drastically reduce costs because you can easily scale up when you need more cloud computing and scale down when you don't need as much processing power.
Q: AWS—With the current disruptions in the retail industry, how is your company innovating to help your customers?
A: CTO, Mobiquity—COVID-19 is changing consumer behavior, and therefore, it's also changing how retailers invest in innovation. At Mobiquity, we work in tandem with our customers to think not one or two steps ahead, but 10 steps ahead. Often, this means partnering with companies like AWS, Jumio, and others to bring the latest and greatest technology to fruition. Then, we break down our clients' goals into manageable building blocks that allow retailers to see what's working and what isn't so that they can capitalize on successes and discard the rest.
One great example is our work with a large Midwestern convenience store chain. The company already had a mobile app in place, but they wanted to implement technology to make life easier for customers. Mobiquity created an in-app fuel pay experience for this client, and we're working on more innovative ideas to help them delight customers.
Q: AWS—There's so much talk at the moment that the shopping experience has changed, and there's a "new normal" going forward. What does this "new normal" look like to you, and how do you think the retail experience will look three years from now?
A: CTO, Mobiquity—I think we're going to see a critical mass shift. The technologies for online ordering and home delivery have existed for a long time, but never at the level we're seeing today. Before, you may have ordered online for non-necessities, but now, many people don't want to walk into a physical store—some people may never again. I think that we will see some existing technologies shift into the mainstream. For example, QR codes are making their way into restaurants, eliminating the need for menus. Bluetooth headphones and the next generation of Google Glass or Apple Glasses may be able to track what you're viewing at the grocery store with a robot selecting and packaging those items for you using contactless check-out—so you don't have to interact with a store associate. These types of near-field communication (NFC) ideas are on the horizon over the next several years.
Q: AWS—What excites you about the future of retail?
A: CTO, Mobiquity—I'm both excited and curious about the future of retail. We're creating so many useful technologies that will make consumers' lives easier. Artificial intelligence, machine learning, and personalization are becoming such great ways to improve the customer experience, and it's a really exciting time to work with these technologies. On the flip side, there's a lot of discussion in the news about ethical practices, and that's a challenge that both retail and technology leaders will need to carefully consider going forward. For me, it always comes back to the customer experience. Retailers who keep the consumer at the center of everything they do will find success as customers embrace their digital channels.
Thanks for chatting with us, Dom. We appreciate your insights and expertise.
—
If you have questions for Dom, Mobiquity, or AWS, please comment on this blog. And also, plan to attend AWS re:Invent 2020, a free virtual conference, to learn how to innovate and transform your business with the power of cloud.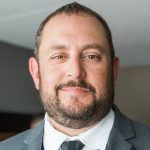 Dominick T. Profico is the Chief Technology Officer at Mobiquity, responsible for all engineering and technology in the US and offshore developer centers. Together with his team, Dom helps Mobiquity clients solve technical problems with the cloud at the center of every engagement. Dom strongly believes that the industry is at a crossroads, where advances in technology and the level of complex, yet open, integration is on the precipice of enhancing how people live in ways we haven't seen before. Contributing solutions to improve the human experience is his passion. Dom has a Bachelor's of Science Degree in Computer Science from Rowan University.