Recapping re:Invent – What's new in the Industrial and Manufacturing industry
Re:Invent 2022 is behind us, and if you didn't make it to Las Vegas, you missed an exciting week of keynotes, sessions, announcements, and other content to help simplify and speed industrial digital transformation. Industrial customers had a lot to see and explore in the expo, Industry demo tent, and a variety of sessions.
Highlights of the show
There were many exciting activities and events throughout the week. Here are a few highlights for industrial customers:
A leadership session focused on how customers like Siemens, Carrier, and Airbus are collaborating with AWS to drive their digital transformation.
Customers were able to see our smart factory machine demo showcasing use cases across visual inspection, material traceability, condition-based monitoring, and command and control cloud automation.
Machine learning, industrial IoT and robotics demos highlighted preventive maintenance, digital twins, and robotic fleet interoperability in the Industry Demo Tent.
Exciting new AWS service announcements that will continue to drive innovation for manufacturers.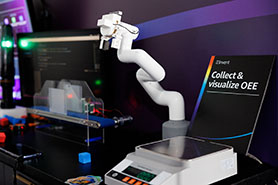 Industrial & Manufacturing Sessions
AWS Industrials & Manufacturing General Manager Grant Bodley hosted a leadership session, "Industrial Manufacturing and Supply Chain" on Monday, November 29, 2022, together with the Head of Industrials Strategy, BD, Solutions & GTM, Kathy Varma. The session highlighted our collaboration with the Industrial Automation and Industrial Software world leader Siemens when Tony Hemmelgarn, Siemens CEO of Digital Industries Software, discussed how Siemens makes industrial digital transformation faster, easier, and scalable. Kathy then hosted a panel with Vincent Denys, Head of IoT Platform at Airbus, Alice DeBiasio, VP/GM Sensitech & Digital Solutions at Carrier, and Tony Hemmelgarn to share their digital transformation priorities and key learnings. Watch the session on-demand here.
We held multiple industrial breakout sessions with customers including Airbus, Samsung, Unox, Heineken, Toyota, and Commonwealth Fusion Systems. Those sessions include: Smart Products and machines for new revenue Streams (MFG204), Heineken brews a new connected manufacturing business (MFG203), Toyota and CFS speed up engineering and design with AWS (MFG205). Check out all the breakout sessions on-demand <here>.
New AWS Service Launches
On Tuesday, Adam Selipsky went through a number of exciting new announcements in his keynote. Announcements of particular interest to manufacturing and industrial customers include the AWS for Supply Chain launch, the AWS Clean Room launch, Amazon DataZone (preview), AWS Application Composer, and AWS SimSpace Weaver which I will cover below. A great customer speaker during Adam's keynote included Siemens CEO of Digital Industries, Cedrik Neike, who discussed how Siemens is driving their digital transformation on AWS with everything from HPC to real-time simulations. Check out Cedrik's portion of the Keynote starting <here>.
AWS for Supply Chain
Adam launched AWS for Supply Chain (preview), a service that mitigates risks and lowers costs with an ML-powered supply chain application, allowing companies to quickly gain visibility across their supply chain without platform changes, upfront licensing fees, or long-term commitments. AWS Supply Chain is a cloud application that unifies data and provides machine learning (ML)–powered actionable insights, built-in contextual collaboration, and demand planning. AWS Supply Chain connects to your existing enterprise resource planning (ERP) and supply chain management systems, without re-platforming, up-front licensing fees or long-term contracts.
AWS Clean Rooms
Of particular interest to industrial machine builders was the launch of AWS Clean Rooms (preview). In the past, end users of machines often did not want to share data on how their machines are being used with their machine builders to protect production information. AWS Clean Rooms helps machine builders and their manufacturing customers and partners more easily and securely match, analyze, and collaborate on their combined datasets—without sharing or revealing the underlying data. This can be very useful for machine builders who need access to datasets at end-user manufacturers using their equipment to better understand how equipment is used, trigger maintenance alarms, and even develop better next gen products. End users can share the datasets without revealing the data itself, protecting what they see as confidential. Both parties benefit from this "secret" data exchange.
Amazon DataZone
Other announcements relevant to industrial companies included Amazon DataZone (preview), which simplifies the search and discovery of data at scale across organizational boundaries. It allows collaboration on data projects through a unified data analytics portal that gives a personalized view of all your data while enforcing your governance and compliance policies.
AWS Application Composer
We also launched AWS Application Composer which helps you build your serverless applications from multiple AWS services. With Application Composer, you can start with an initial sketch, create deployable code, and integrate into your current workflows to improve your development experience.
AWS SimSpace Weaver
Additionally, AWS SimSpace Weaver (general availability) is a new managed service that lets you create expansive simulation worlds at increased levels of complexity and scale. Multiple Amazon Elastic Compute Cloud (Amazon EC2) instances manage the underlying compute, memory, or networking so that you can devote time to building simulations—all while paying only a fraction of the cost of on-premises solutions.
AWS IoT TwinMaker enhancements
Some other significant industrial-related announcements over the past month include multiple updates and enhancements to AWS IoT TwinMaker. AWS IoT TwinMaker provides the tools you need to build digital twins to help you optimize building operations, increase production output, and improve equipment performance. With the ability to use existing data from multiple sources, create virtual representations of any physical environment, and combine existing 3D models with real-world data, you can now harness digital twins to create a holistic view of your operations faster and with less effort. AWS IoT TwinMaker now supports asset synchronization with AWS IoT SiteWise, making it easier for AWS IoT SiteWise customers to bring their assets and asset models into AWS IoT TwinMaker.
Amazon Athena data connector (General Available) and AWS IoT SiteWise and Events alarm connector (Public Preview) are also available. Amazon Athena data connector enables customers to connect data from the Amazon Athena data store to AWS IoT TwinMaker, adding context and information to their digital twins. Customers can now attach tabular data like maintenance records, shift schedules, and electrical bills to equipment in their digital twins. This data connector is fully AWS managed and customers can get started very simply by creating the data connector, attaching it to the entities, and fetching the required data into their digital twins.
In addition, AWS IoT SiteWise and Events alarms connector now allows customers to attach alarm data to their digital twins in AWS IoT TwinMaker without implementing a custom data connector. Operators can visualize the alarm status and configure alarm thresholds in AWS IoT TwinMaker powered Grafana dashboard directly. The integration makes it easier for operators to identify active alarms in their workspaces and adjust alarms' sensitivities. We also launched Camera View and Sub-model selection to TwinMaker Scene Composer. Those two features make it easier for customers to navigate complex 3D models in AWS IoT TwinMaker. Lastly, with the feature launch of TwinMaker Knowledge Graph, customers can query their digital twins, contextualize data from disparate data sources, and gain deeper insights into their real-world systems. As a result, customers can save time performing functions like root cause analysis and drive more informed business decisions. To learn more, visit the AWS IoT TwinMaker product page.
Conclusion
In 2022, AWS demonstrated that reinvent is much more than a developer conference for IT. From demonstrations, industrial use cases, operations-technology (OT) focused sessions, collaboration with key partners like Siemens, and industrial launches aimed at simplifying digital transformation for industrial customers, an industrial OT attendee can find a wealth of content at re:Invent as well. Hopefully we will see you next year! Until then, learn more about on our AWS for Industrial webpage.