Catching Up with the Winners of the 2020 AWS University Startup Competition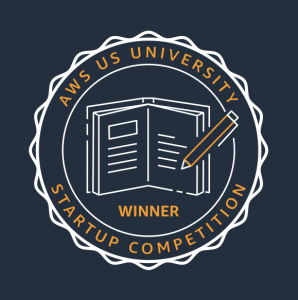 Universities have long been at the center of startup lore. Red Bull, pizza, late nights coding, it's all synonymous with the famous founding stories for many of today's tech giants—I mean, we've all seen The Social Network.
And it makes sense. College students often take novel approaches to existing problems, may have a higher risk tolerance than those later in their careers, and are surrounded by other motivated people looking to collaborate. With all that in mind, AWS launched its annual U.S. University Startup Competition in 2020 to find and support the best entrepreneurs currently building while also juggling their studies.
Last year, over 600 startups applied from 185 different U.S. universities. Applications were reviewed by representatives from the AWS Startup Business Development team, who then selected 10 teams to compete in the last round. Each startup was paired with a subject matter expert from AWS to help them polish their pitches before their final presentations. Winners received up to $20,000 in cash and up to $100,000 in AWS credits, as well as intros to AWS partners like Techstars and Dorm Room Fund.
In preparation for this year's edition of the competition, which is currently accepting applications, we caught up with last year's finalists to get an update on their progress. Check out the winners from last year, and apply here if you're interested in participating this year.
Big & Mini
Having taken home first place in last year's competition, the team at Big & Mini has since been heads down working to scale their platform that connects college students and senior citizens for meaningful conversation and mentorship. The idea was birthed out of the pandemic, when many people were feeling isolated. What started at the University of Texas at Austin as a simple spreadsheet has now evolved into a robust service, and the team even recently secured a partnership with AARP to bring Big & Mini to many of their chapters across the US.
"The AWS University Startup Competition was great in that it exposed us to a handful of mentors that have been really helpful as we've progressed. We're still in touch with those connections and lean on them for advice today." – Aditi Merchant, co-founder
Stratodyne
The now team of five behind Stratodyne are building blimps for surveillance in conflict zones around the world. Per founder and CEO Ed Ge, they had originally targeted the agriculture industry, but found that farmers weren't open to spending the amount of money that would make for a viable business. Stratodyne then moved their attention to the security and defense space, where they were able to secure a contract with an organization in Nigeria to monitor the terrorist group Boko Haram. Ed founded the startup while in school at the University of Missouri-Columbia, but has taken a leave to focus on building.
"This next year will be focused on delivering on our contract in Nigeria, with hopes that we can use that as a case study to acquire more customers down the line. The AWS University Competition was really helpful in our early days—the capital from placing in the finals went directly to kickstarting things and the internal AWS connections assisted in building the software behind our AI-powered blimps." – Ed G, founder & CEO
SwiftSku
There are roughly 153,000 convenience stores in the United States, collectively representing a $650 billion industry, according to SwiftSku co-founder and CEO Mit Patel. The crazy part? Much of the bookkeeping at these stores are done manually with pen and paper, or with antiquated records systems. Not only does that take a lot of time, it's ripe for error. Patel felt that pressure first hand growing up while helping his parents manage their own convenience store. Out of that experience was birthed SwiftSku, a startup that Patel launched with his co-founder Daniel Mazur while they attended Auburn University. The premise is fairly simple: SwiftSku plugs into existing point-of-sales systems to help store operators optimize their inventory via analytics, automated reporting, and dashboards, offering an easy look into the current status of everything. The team has since raised roughly $3.2 million in funding and recently graduated from the prestigious Y Combinator accelerator program.
"The AWS University Competition was a great way for us to meet fellow founders who were going through similar struggles trying to build an early-stage startup. Since then, we've grown from roughly 60 stores to being on track to hit our goal of 5,000 by May 2022." – Mit Patel, co-founder & CEO
Skoop
We've all seen physical billboards and advertising displays, but a growing segment of the advertising market has been moving to digital versions, for obvious reasons. They're more dynamic, eye-catching, and can rotate between multiple messages. Skoop, a startup founded by Josh Cooper while at Michigan State University, is looking to capitalize on that opportunity by building a platform for digital advertisers to easily manage these billboards. Per Cooper, there are currently 25 million billboards in the United States, and it's thought that 50% will be digital in the coming years.
"One of the main benefits we saw from the competition was the prize of $100,000 in credits, which enabled us to test a variety of services and build on AWS." – Josh Cooper, founder & CEO
Are you ready to join their ranks? Submit your entry to the AWS US University competition by November 1 for your chance at up to $20K in cash and up to $100K in AWS credits!