Hot Startups for February 2018: Canva, Figma, InVision
With startups that focus on cryptocurrency, blockchain, and deep learning gobbling up all the headlines, you could be forgiven for thinking that founders and venture capitalists are no longer interested in companies that specialize in a far more tangible and visible field: design. You would also be sorely mistaken.
Design-related startups—such as Canva, Figma, and InVision, the trio of companies we're highlighting as this month's Hot Startups—are still raising large rounds from investors and attracting desirable employees. This is because as industries trend toward visual communication, accessible design platforms and tools have an increasingly important role to play in tech. "People in sales roles who are used to creating text-heavy letters are now often expected to create custom visual pitch decks; journalists are often expected to create graphics to illustrate their stories; and marketers are often expected to be able to create great graphics for social media," notes Canva CEO Melanie Perkins. "Even in schools, we are seeing a trend towards visual communication."
"Design's role in tech has completely transformed over the past five years, in large part thanks to cloud computing," says Dylan Field, CEO of Figma. "Now, people can properly build and scale services. As a result, simply creating software isn't enough to differentiate a company anymore—products must also offer the best user experience, which falls squarely in the realm of design."
For a deeper dive into the world of design startups, we are featuring Canva, Figma, and InVision as our hot startups of the month.
Canva (Sydney, Australia)
For a long time, creating designs required expensive software, extensive studying, and time spent waiting for feedback from clients or colleagues. With Canva, a graphic design tool that makes creating designs much simpler and accessible, users have the opportunity to design anything and publish anywhere. The platform—which integrates professional design elements, including stock photography, graphic elements, and fonts for users to build designs either entirely from scratch or from thousands of free templates—is available on desktop, iOS, and Android, making it possible to spin up an invitation, poster, or graphic on a smartphone at any time.
In reimagining design for the digital age, Canva has a clear focus. "Regardless of your level of design experience, the language you speak, your income or the device you use…our goal is to ensure that design is accessible to everyone," says CEO Melanie Perkins. As it's currently being used in over 100 languages and in 190 countries, Canva has conducted extensive research into the differing design aesthetics of each country and localizes templates for specific festivities and celebrations—for example, Halloween in the U.S. and Oktoberfest in Germany.
Furthermore, Perkins—who thanks to a recent $40 million fundraising round is Australia's only CEO of a "unicorn" startup, notes that the company has only achieved 1% of what is possible with their platform and only have plans to grow. "Design has always been about a lot more than the way something looks," she says. "It's about helping you to achieve your goals."
Read our full interview with Melanie here.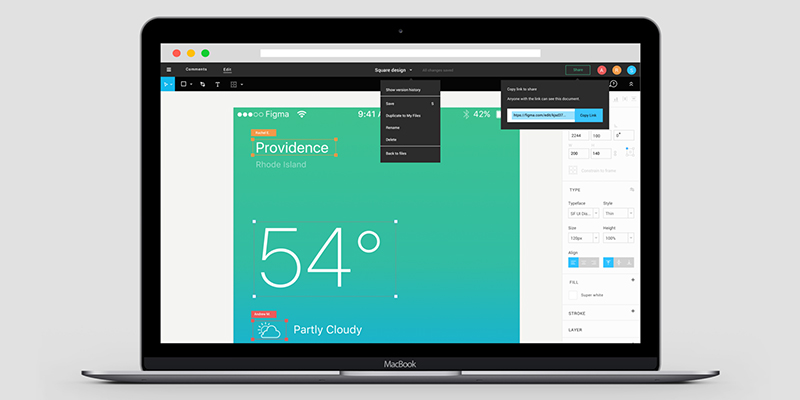 Figma (San Francisco, CA)
As design's role in tech has transformed, simply creating and offering software isn't always enough for a company. The product must also offer a superior user experience, meaning UX and UI design are key to success. This is good news for designers as the demand for design talent has skyrocketed. Companies have doubled their design hiring goals in the last five years and major tech companies are buying out design agencies for their talent. But that doesn't come without its challenges—the industry will need 10x the number of junior designers entering the workforce to keep up with demand.
That's where Figma comes in. A cloud-based design platform that empowers designers to communicate and collaborate more effectively, the company—which just raised a $25 million Series B led by Kleiner Perkins—uses recent advancements in WebGL to create a cloud-based design tool that doesn't require users to install any software or special operating system. Crucially, it also allows multiple people to work in a file at the same time, and for designers that prefer working alone, the platform also allows users to spend less time managing files and more time focusing on work.
"Most design tools are trapped in the 90s," says Field. "From fitness tracking to banking, we've seen every other software vertical move to the cloud, yet designers are still stuck with offline, single player tools. By moving to the cloud, we empower designers to communicate and collaborate more effectively," says Field.
Students will also need to be better prepared for careers in digital product design. And Figma is prepared to help by offering their platform to students for free. Through this, they "hope to give young designers the resources necessary to kick-start their education and eventually, their careers."
Read our full interview with Dylan here.
InVision (New York, NY)
Founded in 2011 with the goal of helping improve every digital experience in the world, digital product design platform InVision helps users create a streamlined and scalable product design process, build and iterate on prototypes, and collaborate across organizations. The company, which raised a $100 million series E last November, bringing the company's total funding to $235 million, currently powers the digital product design process at more than 80 percent of the Fortune 100 and brands like Airbnb, HBO, Netflix, and Uber.
As InVision CEO and Co-Founder Clark Valberg has previously said, "Over the last several years, the power of digital product design to impact every area of business has become increasingly clear, and so it has become a strategic and cross-functional concern across every organization." At InVision, he adds, users span a variety of different industries and don't necessarily sit within a design team. His goal—through new products like InVision Studio and Design System Manager—is simply to help organizations learn from the world's best digital product teams and ultimately build experiences that customers love.