How to set AWS budget when paying with AWS credits
AWS Budgets gives you the ability to set custom budgets that alert you when your costs or usage exceed (or are forecasted to exceed) your budgeted amount. If you are using AWS credits to pay for your monthly bill, by default your actual and forecasted cost will be set to zero. In order to know your actual usage and set a budget while paying with AWS credits, you will need to remove the credits option from the advanced filters. This post will show you how to set a budget and adjust it when paying with AWS credits.
In order to access your billing dashboard, you will need to login with your root account (email and password) or with an IAM user that has access to the billing dashboard.
Check your current credit status
To check the status of your AWS credits, log in to your AWS console, click on the account menu (top right of the screen) and then click on "My Account."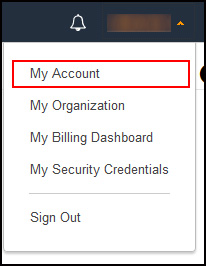 On the left menu click on "Credits"
On the credits screen, you can see the amount of AWS credits used, remaining credits, and the expiration date for the credits.
Set a budget and a notification
To create a new budget click on the "Budgets" in the account menu and then click on "Create Budget."
On the create a budget screen fill the budget form
Name the budget (i.e. MyBudget)
Choose a period for the budget – Choose the monthly option to track the monthly cost
Choose a start date
Choose end date – leave empty for ongoing budget monitoring
Set the amount of the budget
Advanced filters – uncheck the "Credits" checkbox to set the budget disregarding the credits usage.
Set a notification when the budget is at a specific percentage, equal, or passed. You can provide an email address (or multiple addresses) to receive the notification, or set an SNS topic for the notification.
Click on "Create" to create the budget.
Track the budget
You can get back to the AWS Budgets screen to track your budget. Here are some examples of the same budget after several days of usage.
For further reading
Analyzing Your Costs with Cost Explorer – Cost Explorer is a free tool that you can use to view your costs.
Using Cost Allocation Tags – You can use tags to organize your resources and cost allocation tags to track your AWS costs on a detailed level.