Improve online shoppers' brand loyalty: Providing accurate delivery dates and building customer trust with FenixCommerce's order experience and tracking platforms
Many eCommerce retailers face significant planning challenges resulting from supply chain disruption, labor shortages, and a retail landscape significantly altered by the pandemic. Shoppers are searching for brands they can trust to meet their expectations for accurate, on-time delivery, and retailers are looking for solutions to delight their customers and build brand loyalty.
Solve new eCommerce challenges with AWS partners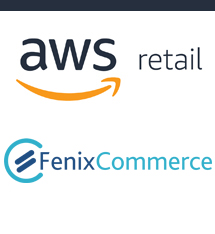 Through our vast partner network, AWS offers many eCommerce-focused solutions retailers can integrate quickly. You can explore our AWS Retail Competency partner solutions to discover the breadth and depth of innovative technology purpose-built for retailers. One Retail Competency partner, FenixCommerce, has helped retailers like Tailored Brands reduce the number of abandoned carts and increase online shopping conversion rates.
One of the most common reasons shoppers abandon their carts is a lack of clarity around accurate delivery dates and costs. Many are demanding this visibility early in the shopping journey, well before they reach the checkout page. FenixCommerce's solution enables retailers to provide accurate shipping information as soon as a shopper adds an item to their cart. It also equips retailer fulfillment teams with tools for shipment management to improve the customer experience at checkout using the lowest-cost-possible shipping services.
FenixCommerce's suite puts the shopper at the center of the order experience by applying artificial intelligence to more than 30 different variables across five separate data feeds—all in real time at every relevant point along the eCommerce journey, improving conversion and driving customer satisfaction and brand loyalty.
Increase conversion through personalized shipping and pick-up options
A successful order experience starts with setting clear expectations for delivery time and cost. FenixCommerce's Order Experience Platform (OEP) calculates and displays accurate, cost-optimized order cut-off times, delivery dates, or store pick-up slots on a retailer's product, cart, and checkout pages. By displaying this information at multiple points along the customer journey, retailers have increased conversion rates by up to 17% and reduced pre-sales inquiries by up to 75%.
Using the OEP, retailers can also offer personalized shipping and pick-up options based on customer location, inventory levels and location, product parameters, and carrier contracts. Further, by dynamically generating shipping options in real time, the platform ensures retailers are using the most cost-effective services to get the order delivered by the promised date.
Boost add-on sales with order tracking and embedded offers
Once customers place an order, they typically check the tracking page an average of 2.5 times. FenixCommerce's Order Tracking Platform (OTP) enables aggregated tracking in real time, delivering a superior post-purchase experience designed to further build brand loyalty and drive additional sales. This experience includes automated and customized email and SMS order status notifications to customers in which retailers can embed special offers to create additional customer engagement and add-on sales.
Manage inventory with order promotions
Using the FenixCommerce solution, retailers can offer product-margin-based or cart-margin-based shipping promotions to sell down inventory in certain fulfillment locations, mitigate regional demand spikes, and incentivize the selection of certain shipping options to lower shipping costs or increase shipping revenue. They can also configure a nearly unlimited variety of shipping-related promotions, offering discounted or free shipping at any service level based on customer loyalty, inventory levels, or specific SKUs or categories.
Drive more efficient order operations
Order operations are made simpler and more cost effective with the help of FenixCommerce's AWS-powered AI engine. Retailers can easily adjust shipping and pick-up options by analyzing real-time product, cart, inventory, operational, customer, and carrier data to create individually personalized shipping options and costs—including time-sensitive and order-specific promotions. They can also use the platform to reduce shipping costs by intelligently selecting the cheapest shipping service that will get an order to its destination by the predicted date.
Tailored Brands is a leading omni-channel specialty retailer of menswear, including suits, formalwear, and a broad selection of business casual offerings through a convenient network of stores and e-commerce sites. The company's brands include Men's Wearhouse, Jos. A. Bank, Moores Clothing for Men, and K&G.
Learn how FenixCommerce improves the online customer experience at Men's Wearhouse by surfacing actual delivery dates and shipping costs pre-purchase, driving a 5% conversion lift while shipping from 1,000+ stores.
---
AWS Partner Spotlight
FenixCommerce, an AWS Retail Competency Partner, now offers the Fenix Intelligent Delivery solution on AWS Marketplace, which means it's easy to get started. With APIs for seamless integration and support for all major eCommerce platforms, you can launch FenixCommerce on your website in days.
Connect with FenixCommerce today.