Tag: Alexa for Business
Group insurance companies need to provide higher service levels to their stakeholders—employers, employees, brokers, other ecosystem partners, and their own insurance personnel—to remain competitive. Using Vitech's V3locity Application Service allows group insurance companies to exceed the necessary service levels (short-term and long-term) while offloading the management of the associated application and infrastructure services to Vitech, through its collaboration with AWS.
You can now register for the new AWS Certified Alexa Skill Builder – Specialty certification, the industry's first and only certification that validates your ability to build, test, and publish Alexa Skills. This offering enables APN Partners to validate their Alexa and cloud expertise with an industry-recognized credential, building credibility among your clients and prospects. With Alexa, you can reach customers through more than 100 million Alexa-enabled devices.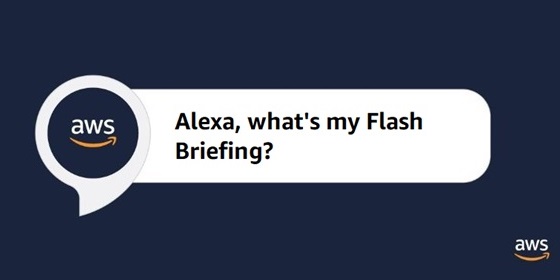 We are excited to announce a new Alexa Flash Briefing Skill for APN Partners. Adding this Alexa Flash Briefing Skill to your Alexa app lets you easily access weekly news, APN Blog posts, and event announcements for APN Partners. It's a great way to stay up-to-date with the APN. Be sure to check in regularly for new updates and announcements for APN Partners. You can also create your own Alexa Flash Briefing Skills in the Amazon developer console.