AWS Architecture Center: Your One-Stop Destination for Guidance & Resources
Discovering relevant architecture-related content has been simplified and made easier with the newly updated and expanded AWS Architecture Center. Now you can browse, search, and even request reference architectures, architecture patterns, best practices, and prescriptive guidance all in one location.
The revamped Architecture Center is the only place where you can browse recommended guidance by the most relevant use cases for specific domains as well as view aggregated collections of content related to those domains in one location. We designed this aggregated experience to help you discover content you might not have known to look for in the past.
How can the Architecture Center help me?
Let's say you're looking for security guidance and content. Instead of having to visit several different AWS sites to find what you need (such as whitepapers, AWS Solutions, blog posts, etc.), it's now all in one place. You'll also see content most popular with other AWS customers.
From the Architecture Center homepage, in the Security, Identity, & Compliance column, click any of the areas you're interested in and discover best practices and featured content.
There are several other domains listed on the Architecture Center homepage—such as Analytics & Big Data, Machine Learning, and Databases—and we will be adding more domains and industries.
We want your input and ideas
If you can't find what you're looking for (or even if you're not quite sure what you're looking for), we're giving you a direct line to us so that you can request content or let us know what's missing. Look for the Didn't find what you were looking for? Let us know link at the bottom of the Architecture Center homepage as well as under the Filter by: section on each domain page.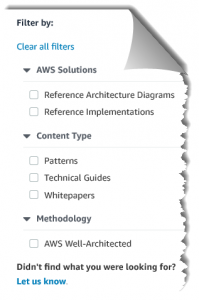 Your requests and ideas will help us decide what content we should add to that domain and even to create. So, don't be shy—let us know if you're just not finding what you need and we'll do our best to help.
All the guidance and content you need in one place
The AWS Architecture Center can help you find the accurate and up-to-date information, helping you make the right decisions from the very beginning of your projects. It's your one-stop destination that provides recommended guidance from AWS Solutions Architects while giving you insights into the architecture content read most often by other AWS customers. We're making it easier to design and operate reliable, secure, efficient, and cost-effective cloud applications right from the start.