Amazon Wind Farm Fowler Ridge is Live!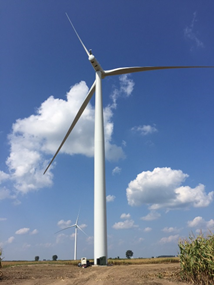 Back in November 2014 AWS made a long-term commitment to achieve 100% renewable energy usage for our global infrastructure footprint, and we continue to make progress towards this goal. Today's news on this topic is particularly exciting for us – our Amazon Wind Farm Fowler Ridge, located in Benton County, Indiana, is now live and producing electricity! This marks the first of our four announced renewable energy projects to move into full operation.
We first announced that we teamed with Pattern Energy Group LP (Pattern Development) on the construction and operation of the 150 megawatt (MW) Amazon Wind Farm Fowler Ridge in January of last year. Over the course of the summer and fall of 2015, Pattern erected the wind farm's 65 utility-scale turbines. Each of those turbines is tall, so tall in fact that the rotor axis, called a nacelle, is about the height of a 26-story building with blades long enough to sweep an area about the size of a football field.
On January 1, 2016, its first day of full operation, Amazon Wind Farm Fowler Ridge generated more than 1.1 million kilowatt-hours of renewable electricity, enough to power over 100 US homes for an entire year! Each year the project is expected to generate enough renewable electricity to power the equivalent of approximately 46,000 homes. With this wind farm, we're able to increase the amount of renewable energy produced in the grid that powers AWS's US East Region in Northern Virginia and upcoming US Region in Ohio. Over time we'll continue to add more wind and solar power delivered into the grids, reducing the amount of coal and other fossil fuels needed to power those grids.
Today's news definitely helps us progress towards our goal of 40% renewable energy for our global infrastructure by the end of 2016 and marks more progress in AWS's march towards our long-term 100% renewable goal, with much more soon to come. Since the Fowler Ridge project, we have announced three other agreements for new wind and solar projects that will be constructed over the coming months and start generating renewable power in late 2016 and early 2017. Stay tuned for more exciting announcements to come in the future as well.
— Jeff;