New Asia Pacific (Sydney) Region in Australia – EC2, DynamoDB, S3, and Much More
It is time to expand the AWS footprint once again, with a new Region in Sydney, Australia. AWS customers in Australia can now enjoy fast, low-latency access to the suite of AWS infrastructure services.
New Region
The new Sydney Region supports the following AWS services:
We also have an edge location for Route 53 and CloudFront in Sydney.
This is our ninth Region; see the AWS Global Infrastructure Map for more information. You can see the full list in the Region menu of the AWS Management Console: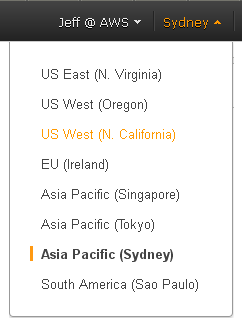 Customers
Over 10,000 organizations in Australia and New Zealand are already making use of AWS. Here's a very small sample:
AWS Partner Network
A number members of the AWS Partner Network have been preparing for the launch of the new Region. Here's a sampling (send me email with launch day updates):
We already have a vibrant partner ecosystem in the region. Local Systems Integrators include ASG, Bulletproof Networks, Fronde, Industrie IT, The Frame Group, Melbourne IT, SMS IT and Sourced Group.
On the Ground
In order to serve enterprises, government agencies, academic institutions, small-to-mid size companies, startups, and developers, we now have offices in Sydney, Melbourne, and Perth. We will be adding a local technical support operation in 2013 as part of our global network of support centers, all accessible through AWS Support.
Listen to Andy
AWS Senior Vice President Andy Jassy will be speaking at our Customer Appreciation Day (November 13, 2012). You can watch the YouTube.com video of the live stream from anywhere in the world.
— Jeff;
Modified 10/24/2020 – In an effort to ensure a great experience, expired links in this post have been updated or removed from the original post.