AWS Marketplace Free Trials for Popular Products
The AWS Marketplace makes it easy and simple for you to find, buy, and start using a wide variety of software and services.
I am happy to announce that more than 100 of the products in the AWS Marketplace are now available as time-limited, free trials including popular products from Riverbed, Barracuda, Compuware, SafeNet, and RealNetworks. You can see the full list on our new Free Software Trials page.
If you decide to keep the instance running, you wont need to do a thing. Youll automatically be converted to a paid hourly subscription (well send you an email beforehand). You can cancel your evaluation at any time.
You can find these products by looking for the new Free Trial banner beneath the product image (highlighted in yellow, below):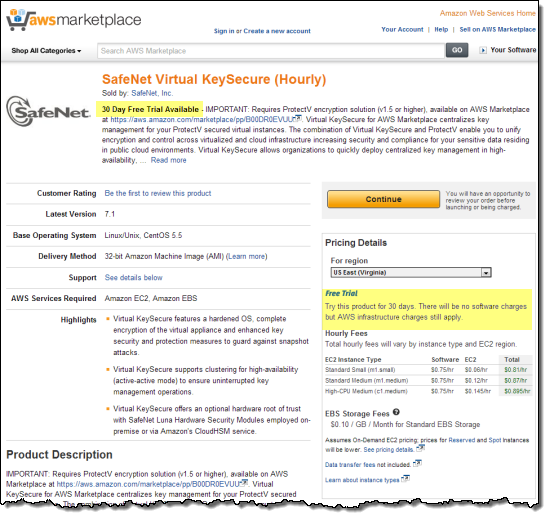 If you are eligible for the AWS Free Usage Tier and the application you'd like to test will run on a micro instance, you can try it out at no charge for software or for AWS resources as long as your resource consumption stays within what's available to you at this level. Marketplace products available in this mode (Free Trial + Free Tier) include Sophos UTM, NGINX, Syncsort Ironcluster, Zend PHP Server, and aiScaler.
If you are a software vendor, you can offer customers access to a full-featured version of your software for evaluation purposes right from the start. You can do this for any and all of the EC2 instance types. You don't have to create a separate trial offering and you don't have to worry about migration when customers want to purchase a full version. Once your product is on the AWS Marketplace, you can offer a Free Trial on the Marketplace with zero engineering effort! Read our Sell on Marketplace page to learn how to get started.
— Jeff;