AWS Training Now Available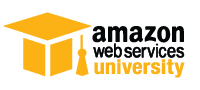 We have just announced our first set of AWS training classes. Each session will be held in Seattle and will run for four full days.
The classes are designed for developers with experience building Java applications and there will be coding exercises in class. Attendance is limited to 20 students per session and attendees are expected to bring their own laptops. Cost is $2000 per attendee.
Attendees will learn how to build, launch, and scale an online video management and distribution application on AWS and our Java development tools. The application will make use of a multitude of AWS Services including Amazon EC2, Amazon SimpleDB, the Amazon Relational Database Service (RDS), AWS Elastic Beanstalk, and AWS CloudFormation.
Read more about AWS training or sign up now.
— Jeff;
Modified 01/05/2021 – In an effort to ensure a great experience, expired links in this post have been updated or removed from the original post.