CloudFront / Route 53 Edge Location in Sydney, Australia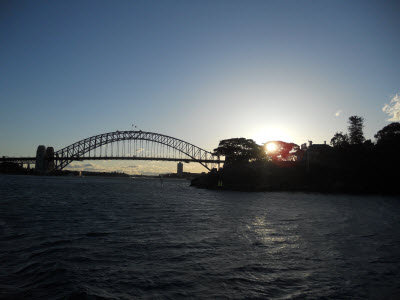 The Sydney Harbor Bridge at sunset,
taken on my first (and so far only) trip down under!
We've just added an edge location in Sydney, Australia (number 33, to be precise) to Amazon CloudFront and Amazon Route 53.
Based on customer requests, internal logging, and the response to our recent survey, we believe that this location will prove to be of great benefit to our customers, providing them with increased performance and reduced latency. We believe that CloudFront's pay-as-you-go pricing model will provide Australian companies and global companies with a very cost-effective alternative to traditional content delivery solutions.
This new location will speed up the delivery of static, streaming and dynamic content to end users in Australia, and will also accelerate the resolution of DNS queries that originate from within the area.
The CloudFront location in Sydney supports the entire array of CloudFront features including support for dynamic content, low minimum content expiration periods, live streaming to multiple devices using FMS 4.5 or smooth streaming, streaming media, private content, invalidation, and custom origins.
Our customers have put CloudFront to use in a variety of ways. Check out our case studies from the likes of IMDB, PBS, Playfish, Second Life, Red Lion Hotels, Sega, and Virgin Atlantic to learn more.
It is very easy to get started with CloudFront. Once you have done so, your content will be available more quickly, your application will be more responsive, and your users will be happier!
Now Hiring
The CloudFront team continues to grow and we have a number of open positions including a Software Development Manager, a Sr. Software Engineer (5-10 years experience) a Software Engineer (2-3 years experience) and a Product Manager. You can find a list of all open positions at CloudFront Jobs.
— Jeff;
Modified 1/26/2021 – In an effort to ensure a great experience, expired links in this post have been updated or removed from the original post.